Keira Knightley's Makeup Artist Walks Us Through The Perfect Red Lip (Psst: It Costs $30)
Courtesy Of Kate Lee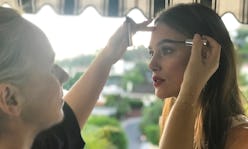 Look at any photo from the Los Angeles Colette premiere on Sept. 15 and you'll agree that the red carpet was pure eye candy for the fashion- and beauty-obsessed. And Keira Knightley's makeup routine — which perfectly offset her sparkly dress — was one of the highlights of the evening. The actor arrived with her signature feathered brows and the softest smoky eye, but celebrity makeup artist Kate Lee also gave Knightley a vibrant red lip — one you'll be tempted to recreate immediately.
Lee, who's worked closely with Knightley for years, tells The Zoe Report that a red lip was the perfect way to accompany the actor's pink Chanel dress. "I took my inspiration from the Chanel runway show, as I loved the combination of the soft pink with a true red lip," she says over email.
Considering that makeup was the focus of Knightley's look, the rest of her beauty routine was kept fairly simple. The actor's long, chestnut hair was parted in the middle, and her loose, casual texture gave way to her makeup.
Lee made the look extra unique by sweeping Knightley's lids with a subtle, purple eyeshadow. "We decided to make the look our own by adding a soft-lilac hue on the eye and some beautiful, feathery lashes," she adds.
Lucky for you, recreating Knightley's makeup routine is easier than it looks — regardless of where your beauty skills lie. Ahead, Lee walks through the four easy steps she used ahead of Knightley's Colette premiere. Don't worry — we've rounded up the exact products you'll need to copy the look (yes, including that perfect $30 lipstick).
Recreate The Look
Step 1: Prep The Skin
Lee began by prepping Knightley's skin with what she calls the "triple threat." After layering a combination of Chanel's Hydra Beauty Mist (a lightweight mist that's loaded with ultra-hydrating ingredients like hyaluronic acid and vitamin E), Hydra Beauty Sérum, and a dollop of Chanel's cult-favorite moisturizer, Lee coated her lips with a shea butter-infused balm.
Step 2: Foundation
When it came to foundation, Lee took a unique approach. "I like to start out with highlighter; I incorporate it into my base, which makes the skin appear lit from within," she explains. Following Chanel's highlighter palette, Lee worked a small amount of tinted moisturizer and concealer across Knightley's skin. She finished off the look by dabbing a few blotting papers and sweeping loose powder over Knightley's base.
Step 3: Eyes And Brows
Lee gave Knightley a subtle, lilac lid with the help of Surratt Beauty's Artistique Eyeshadow (a super-pigmented formula that's well-loved amongst the beauty community). "Lashes were curled and given one generous swoop of Le Volume Révolution De Chanel mascara," she explains. "I then feathered in a few Mari Shten individual lashes and groomed and set her brows using Chantecaille brow gel."
Step 4: Lips
Finally, Lee gave Knightley her bright-red pout with the help of Chanel's Rouge Allure Liquid Powder in Radical — a bright, orangey red with major staying power. "I sealed the lipstick with a layer of Rosso Parthenope from Chanel's Poudre à Lèvres Lip Balm And Powder Duo, using the balm to blur the edges," she adds. The look was finished off with one final layer of Radical for extra intensity.