Katie Holmes & Jamie Foxx Made Their Couple Debut At The Met Gala In Coordinating Outfits
Clint Spaulding/Shutterstock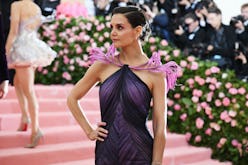 Fans are calling the couple "Met Gala official." After an evening of show-stopping looks and pink carpet antics, one relatively low-key moment has created a buzz across the internet: Katie Holmes and Jamie Foxx's 2019 Met Gala debut. Yes, the couple — who've been rumored to be dating since 2013 — finally posed for a few very public (and very fashionable) photographs together. And their fans could not be happier.
Though no one could've guessed the long-awaited photo op would arrive judging by how the two entered the soirée. Katie Holmes entered the gala with Zac Posen, the designer of her gorgeous, palm frond-accented tulle dress. On the Met Gala's pink carpet, the rumored couple was photographed in a large group of attendees — standing, of course, on opposite ends of the lineup. But once the duo entered the event, the photos fans have been waiting years for finally were snapped: Jamie Foxx and Katie Holmes with their arms around one another, looking absolutely glowy.
Eagle-eyed fans also may spot one detail from the photo that further cements the dating rumors. Besides the sleek tuxedo and futuristic aviator sunglasses, Foxx's shoes matched the deep purple shades of Holmes' dress perfectly. Could it be just a coincidence, and both celebrities happened to pick the regal shade at random? Maybe, maybe not.
At least on Holmes' end, the purple was very planned out. Zac Posen told The Hollywood Reporter that his Met Gala 2019 looks had been in the making since last year's event — calling Holmes' dress a "Prince purple metallic" shade. (Which means Foxx had plenty of time to pick out matching shoes.) The designer also referenced Holmes' unique personality and skin tone as an inspiration for the dress.
Just now realizing the two are a thing? You're not behind the times; both celebrities have notoriously kept any hints of a relationship out of the public eye. According to Marie Claire, in the past Holmes and Foxx have even worn disguises as a way to keep their courtship under wraps. So, their followers are probably just happy to see the two together, smiling, and looking confident — and chic — as can be.