The Brand Behind Katie Holmes' Viral Cardigan Moment Will Be One To Watch This Fall
Andy Kropa/Invision/AP/Shutterstock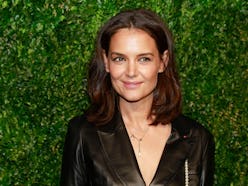 There's something you should know before you go filling up your fall wardrobe with preliminary statement-sleeve sweaters and wool berets. The buzzy brand behind that cashmere cardigan and bra set that singlehandedly made Katie Holmes a fashion influencer should not be skipped on this post-summer shopping spree. Introducing the New York-based label that's quickly becoming an it-girl fave: KHAITE.
On Aug. 27, 2019, Katie Holmes' slinky cardigan conveniently slipped down her shoulder while she was hailing a taxi, revealing a matching bralette that the internet went absolutely wild for. The devastatingly chic Carrie Bradshaw moment monopolized headlines for a week, not that it took longer than 60 minutes for the undergarment to sell out entirely.
The $520 price tag seemed to have stopped nobody from gobbling up this barley-colored bandeau faster than the fashion magazines could even break the news. It will forever be remembered as the look that turned Holmes into a bonafide Instagram influencer. Best of all, she picked out the outfit herself.
Although her former stylist, Jeanne Yang, was the one to introduce Holmes to KHAITE the brand behind her viral separates, a representative from the company has confirmed that the actor purchased the set on her own account, indeed, according to The Cut.
Holmes is doing quite alright curating her own outfits, actually. Whether her savior faire is merely accidental or she has some secret talent for putting together a look remains a mystery, but the actor's off-duty style is a constant topic of conversation these days, in any case.
Cozy sweaters, feminine silhouettes, and elevated basics — all up the Dawson's Creek actor's alley — are pretty much KHAITE's specialty. Rosie Huntington-Whiteley, Martha Hunt, Selena Gomez, and Kaia Gerber are repeat wearers of the emerging label, too.
The Eda Cashmere Bralette that Holmes made famous may be out of stock, sadly, but you can join the waitlist for it (her cardigan, too) and stock up on similar pieces from the brand celebrities are loving before fall officially begins. The Zoe Report's favorites, ahead.
Shop The Look