The Right Way To Match Your Beauty Look To Your Outfit, According To Kate Hudson's Makeup Artist
Dave Allocca/StarPix/Shutterstock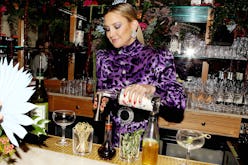 Kate Hudson is funny. Not just '90s rom-com funny, but ab-achingly funny. This became apparent at the launch for her new line of vodka, where the actor and entrepreneur noticed that her bright animal-print dress had changed color under the warm lights of the venue. "Oh wow! It totally does look brown, but it's this vibrant purple," Hudson tells TZR of her holiday look, comparing the apparent hue at the bar and under the fluorescent bulbs in the powder room. We had just finished chatting briefly about our shared love for her makeup artist, Quinn Murphy — who was also on hand to discuss Hudson's outfit for the night and how you, too, can tastefully match your makeup to your ensemble this holiday season.
Hudson hosted guests at King Restaurant in New York City, on Dec. 9 to celebrate the launch of her new brand, King St. Vodka. The event was both cozy and lively, and gave interested parties a chance to try out the spirit for themselves (spoiler: it's dangerously good). The idea to venture into spirits came from the mogul not being completely satisfied with the woman-founded options on the market. She set out to create a liquor that's free of GMOs and gluten, and to package the product in an appealing way, with a sleek bottle decorated with tonal flowers and vintage-inspired font. It's also one of the few alcohols crafted with alkaline water to keep you hydrated, according to Hudson's business partner (co-creator of Bethenny Frankel's Skinnygirl cocktails), David Kanbar.
The woman of the hour attended the event wearing a luxe satin dress from Alessandra Rich's Spring/Summer 2020 collection, matching the maxi's glamorous feel with shimmering accessories and an equally as sparkly beauty look to match. "I used a [Troy] Surrat product, a creamy shadow that has beautiful violet reflects in it", Murphy explains to TZR at the beginning of the night. "I used this at the base of the eye to bring out the tones of the dress." And the good news is it's an easy holiday party combination that you can try out at home if you so choose.
To round out the look, the makeup artist suggests going with a similar product that's sheer and not at all heavy, treating it as an accent to an ensemble rather than matching its intensity. So when it comes time to start prepping for your next holiday party, take Murphy's tips into account to achieve a perfectly coordinated beauty look that mirrors Hudson's opulent vibe. Though Hudson's dress is not yet available, opt for this full-length blue version (which is half off on Net-A-Porter), paired with Surrat's new duochrome shadow, in Nebula for the same effect.
Continue ahead to shop a selection of matching eyeshadows and ensembles that will require little to no thought when getting ready for your next holiday soiree.