Kat Von D Beauty's First Mascara In 5 Years Launches April 19 — And It's Vegan
Sephora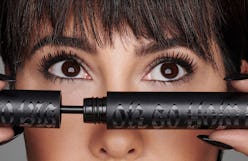 Paging Kat Von D Beauty fans: Your wait is over. The beauty brand announced that its first mascara in five years is coming to stores April 19. Appropriately titled the Kat Von D Beauty Go Big or Go Home Mascara, the formula thickens, volumizes, and lengthens lashes — all the while using a vegan, plant-powered formula different than others currently on the market.
Orange Is The New Black's Jackie Cruz — who plays Flaca, a character with iconic eye makeup — is the face of the Go Big or Go Home Mascara campaign. "Kat Von D Beauty fell in love with Jackie Cruz at our 10th anniversary party in which she attended. We knew she was a fan of our Tattoo Liner so naturally she was always at the top of our list to partner with in some way," Kelly Coller, Head of Global Marketing and PR at Kat Von D Beauty, tells The Zoe Report over email. "When we made the decision to use a celebrity as the face for our new mascara, Go Big or Go Home, Jackie made perfect sense. Luckily she said 'yes!' She speaks to our brand ethos as a fearless woman, with strong self-expression and of course her love of animals. It also doesn't hurt that she represents our Latina heritage and we simply adore her."
And why did it take so long for a brand known for its signature Kat Von D Beauty Tattoo Liner to offer a complementary mascara? Chances are, the brand wanted to get the unique formula right. (It did previously offer two now-discontinued mascaras as well: the Sin-Full Lash Mascara and the Immortal Lash Mascara.) Retailing at $23, the mascara gets its lash-plumping powers from an unexpected source — olive and sunflower oil waxes.
And before you ask, no, that doesn't mean the mascara will be a pale, waxy color. The mascara is dark, or "Trooper Black" as the brand calls it, which is the same intense black hue used by the Tattoo Liner. And there has to be something about the dark shade, and the brand's eye makeup formulas in general: as you probably know by now, Kat Von D Beauty's Tattoo Liner is a set-in-stone staple at Sephora, with over 15,000 reviews.
It turns out mascaras rely on wax more than you may think to give you long lashes. It's also where the Go Big or Go Home Mascara's vegan nature comes into play. Other mascaras use beeswax — synthetic or not — in their formulas to give them the right, stay-in-place-all-day consistency. The only difference is that Kat Von D Beauty's is plant-based. Combine that deeply pigmented formula with the mascara wand's wavy bristles (the brand calls the hairbrush-inspired wand "the Fluff Brush") and you have dramatic, open lashes.
Or not, too. The buildable formula allows you to "go big" by layering on coats or stay on the natural end of things by swiping on just one. Regardless of how many layers you apply, Kat Von D Beauty claims the mascara is flake, smudge, and clump resistant.
Want to put it to the test? Sign up to be alerted when the Go Big or Go Home Mascara drops at Sephora by following the link below.