Where To Shop The $100 Earrings Kaia Gerber Wore Throughout Fashion Week
Beretta/Sims/Shutterstock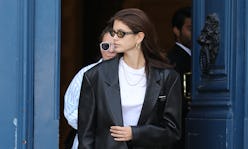 It's not unusual for high-fashion models to be decked out the most coveted, luxe pieces when it comes to their jewelry selection. After all, they often have personal relationships with some of the world's most notable designers. So when a celebrity opts for an affordable jewelry line, it's always big news for the fashion-obsessed — and Kaia Gerber's earrings are just that.
With Paris Fashion Week in full swing, celebrities have flocked to the fashion capital in their very best street-style looks. Kaia Gerber, 17-year-old model and the daughter of Cindy Crawford, is no exception — the model has spent the week wearing '90s-inspired jeans, oversized leather jackets, and the perfect hoop earrings.
Gerber's hoops — which she's worn a total of three times over the course of a few days — are a classic silhouette with a dangling, mini green stone. Designed by London-based jewelry brand, Missoma, the subtle-yet-glamorous pair of huggies provide a boho vibe, while still acting as the perfect addition to a variety of Gerber's fashion week looks. The best part? They retail for $110.
Gerber was first spotted wearing her trusty pair of hoops while out and about in Paris on Sept. 27. She wore the earrings as a secondary component to her jewelry look, pairing them with larger gold hoops and a thick chain. Proving that her staple goes well with just about everything, the model wore an oversized black t-shirt, black trousers, and tiny sunglasses.
Gerber wasted no time before wearing the earrings again during her whirlwind trip to Paris Fashion Week. This time, on Sept. 29, she wore an oversized blazer, a white t-shirt, and classic high-top Chuck Taylors. She pushed her hair behind her ears, allowing the colorful earrings (and Chanel sunglasses) to remain a focal point of the look.
On the morning of Oct. 1, while backstage before walking the Stella McCartney runway, Gerber was once again photographed donning her favorite pair of mini hoops. Gerber, of course, swapped out the pair before showtime. Suffice it to say, the model shows little sign of retiring her earrings anytime soon.
Gerber's earrings are still (surprisingly) in stock — but they won't be for long. Ahead, shop the model's exact earrings, as well as The Zoe Report's favorite Missoma pieces you'll want to add to your collection ASAP.
Shop The Look