Why This Just-Launched, Sustainable Sunglasses Brand Is One To Watch
Courtesy of Just Human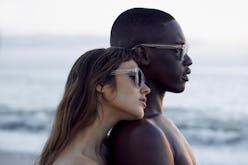 Style — as an everyday art form — can be easy. The right pair of sunglasses makes it that way. You can be wearing relaxed jeans, your comfiest T-shirt, and with a pair of classic black sunglasses, suddenly, it's a look. Without a doubt, you can thank the James Deans and Audrey Hepburns of the world for paving the way. But now, the next generation of sunglasses is emerging, and it's one that marries effortlessly cool shades with even cooler sustainability practices. Meet the Just Human sunglasses, recyclable and chic unisex shades made from sand, 18k gold, and reforested softwood trees.
Just Human is new. As in, it officially launched March 5, 2019. But the brand is already becoming one to watch for this summer, and beyond. Its styles are cool, uncomplicated, and designed to be worn by anyone; whereas other brands designate styles and colorways to specific genders, Just Human melded concepts together, creating new designs from classic sunglasses shapes.
The first collection includes four styles starting at $260 apiece: the Bold Square, Modern Round, Modern Aviator, and Modern Cat. To see Just Human's clever design work, just take a peek at the Modern Cat sunglasses — you'll wonder why more brands aren't designing cat-eye shades for men. (Not to mention the red frames with warm-toned lenses are certifiably swoon-worthy.)
And if you ever grow tired of your Just Human shades (unlikely, but you never know), the materials can be used again. The frames are made from sustainably-harvested softwood trees and can be recycled. The hinges, pins, and temple core wires are made from silver and 18k gold-plated metals. The scratch-resistant, color-enhancing mineral lenses are made from sand, and are recyclable as well; Just Human even keeps lens shavings on-hand to form into new lenses. Each sunglass case is made from recycled water bottles and Piñatex, a leather-like material created from pineapple leaves.
"I grew up in Zimbabwe and the droughts that I experienced there first hand made a huge impression on me as a young boy. It made me think a lot about how important it is to care for our natural resources and use them responsibly," Just Human's co-founder Craig Gonsenhauser explained in a press email. "We later moved to Canada where there is a huge importance placed on composting and recycling to repurpose materials and give them a second life."
Fortunately, the sunglasses aren't just good for the planet; they look good, too. Continue scrolling down to shop a few of the must-have shades from Just Human's first collection.