Joanna Gaines' Anthropologie Collection Is The Minimalist Way To Add Color To Your Space
Anthropologie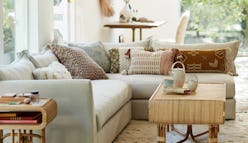 If you ask a group of modern design-loving homeowners — or apartment-dwelling decor enthusiasts — whose aesthetic they most admire, Joanna Gaines' name has a chance of being brought up. Together with her husband Chip, Gaines rules over a lifestyle and design kingdom: Magnolia Home, Magnolia Market, Target's Hearth & Hand With Magnolia, and now, the Joanna Gaines for Anthropologie collection. (This all doesn't even begin to include the HGTV show Fixer Upper, too.)
Her style is clean yet homey, a modern take on the farmhouse aesthetic — scrolling through Magnolia.com, the hub of Gaines' well-designed universe, makes it clear. Which made working with a colorful, bohemian brand like Anthropologie a balancing act. "I wanted this collection to balance the distinct Anthropologie aesthetic I've always admired — bold colors and whimsical patterns — with timeless details like balance, texture, and cleaner lines," reads a quote by Gaines on the collection's page.
Fortunately for shoppers, Gaines' and Anthropologie's styles fit together seamlessly. The collection includes the finishing touches a space needs — rugs and pillows — and prices are similar to other Anthropologie collections. A 2.5 foot by 9 foot runner version of the black-and-white Joanna Gaines for Anthropologie Olive Rug will cost you $248, while the expansive, 9 foot by 12 foot area rug size will run you $1,198.
While tempting, try browsing the non-grayscale pieces if you're looking to add color to your space. The collection is a minimalist's best friend; a majority of the colors are artistically faded, and even the richer shades are muted by eye-catching texture or woven details.
Popping subtle color into your space really can be easy, too. Take a look at the terracotta and dark turquoise colorways of the Textured Eva Pillow. The two larger blocks of color are interrupted by paler, handwoven detailing. At either $68 or $78, the pillows may be all you need in your space to work in fresh, colorful energy.
It's no surprise that both minimalists and bohemian Anthropologie fans are likely to find pieces they adore from the collection: The palette and designs included are purposefully versatile. Gaines noted on the Magnolia website that the pieces were created to work together and complement decor and furniture in your home already.
Want to see if the Joanna Gaines for Anthropologie collection is the right fit for your unique space? Continue scrolling down to browse a handful of the most swoon-worthy pieces from the collection.