This Cult-Favorite Nail Polish Brand Made Its Fans' Perfect Spring Shade A Reality
J.Hannah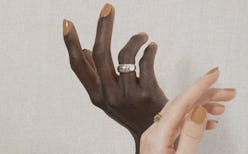 What shade is your perfect spring nail polish color? You know, the color you always wish you'd find while browsing nail polishes at the store, but never do. It may be a soft, barely-there pastel, or something holographic and bright — celebrating the end of snowy weather (for at least another year). When the jewelry and nail polish brand J.Hannah asked its followers on Instagram about their dream spring shades, one color jumped out from the rest, demanding to be made into a reality: J.Hannah's new Nectar nail polish, a $19 muted orange shade that somehow goes with everything.
Read more: Negative Space Manicures For Spring Are So Trendy & Just As Easy To DIY
That may be because the brand describes J.Hannah nail polish as "a line of carefully-edited, high quality polishes for the color-resistant." These are nail colors that play a supporting role to your wardrobe; while they may catch an eye or two, the subtle shades live to accent what you're wearing. And it works: J.Hannah's fans flock to the brand's artistically offbeat nail colors, like the on-trend green shade Eames or the southwestern-inspired nail color Ghost Ranch.
And, according to the ecstatic fan reaction after J.Hannah officially revealed the new shade, Nectar is about to become a favorite, too. That said, you may not know exactly what color Nectar is. The subdued orange is slightly hard to describe — J.Hannah's website lists a few phrases like "smokey apricot", "sun-faded ranunculus", and "muted Thai tea."
Whether you see Nectar as fruity or floral, it's bound to become a staple in your collection this season. Looking for inspiration on how to bring the new shade into your life? J.Hannah has posted a couple nail art pictures on its Instagram — including a minimalist, negative space-focused take on the Insta-famous "rainbow nails" trend. And while Nectar isn't used, it's easy to see how you can combine J.Hannah's nature-inspired shades into one stunning and cohesive manicure.
However, like spring itself, the Nectar shade won't be here for long. The nail color is limited edition, and the only place to buy it is on J.Hannah's website. So keep on scrolling down if you're already dreaming of how you're going to use the warm color — a link to J.Hannah's new Nectar nail polish is below.