Jennifer Lopez Took The Animal-Print Trend One Step Further With A Bold New Hairstyle
Dia Dipasupil/Getty Images Entertainment/Getty Images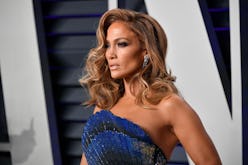 The start of a new season beckons all kinds of hair changes from your favorite celebrities, but J. Lo's latest transformation is one you didn't see coming. In her new music video for "Medicine" — which just dropped on Tues. — Jennifer Lopez debuted animal-print hair. That's right: This bold new way to wear tiger stripes could require a trip to the salon.
Everyone from Meghan Markle to the Hadid sisters have made it abundantly clear that animal print is the classic trend that can be adapted to any style. Remaining relevant since the caveman days (literally), nothing has withstood the test of time better than these versatile designs.
Now here we are in 2019 and snakeskin, leopard, cow spots, and crocodile scales are still all the rage, albeit they've taken plenty of hiatuses over the years. Jennifer Lopez's new hair is proof that the trend is alive and well.
The singer dropped a music video for her song "Medicine" on Tues. and in it, she bounces between all kinds of different personas, including a cowgirl riding a carousel and a crystal ball reader. At one point, Lopez takes an illuminated stage in tiger-striped hair.
Her hairstylist, Chris Appleton, posted a close-up of his work on Instagram immediately after the video was released.
In the photo, J. Lo's long, poker-straight hair is decorated with allover brunette and mahogany stripes. It's certainly not the only bold hairstyle Lopez sports in her new music video. The singer also wears a sky-high cinched bun and a ponytail that nearly reaches her knees.
The animal-print dye job, however, could be the most likely to catch on. In fact, it sort of already has.
The cult-classic UK salon BLEACH London was partly responsible for this emerging hair trend when it posted an Instagram photo of a shaven head with prominent leopard spots in 2017.
In Jan. 2019, Versace incorporated a similar leopard hair look into its menswear show in Milan. Although animal prints have been slowly making their way into the mainstream lately, not many have tried out tiger stripes like Lopez just did.
While it's likely just a one-off look for the singer's new video, her tiger-inspired hair might actually take off. It's undoubtedly one of the most subtle ways to incorporate animal print into a hairstyle for those who aren't quite bold enough to do full-on cheetah spots. So, who's feeling a bold hair transformation this spring?