Jennifer Garner Wears This Bag With *Everything* (& It's Easy To See Why)
Emma McIntyre/Getty Images Entertainment/Getty Images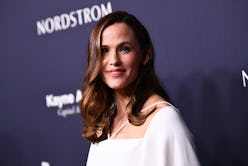 Those who are familiar with Jennifer Garner's style might call it simple, perhaps even sporty, but above all, it's practical. You can find the busy actor in a boxing class by day, posing on the red carpet by night, and running her regular errands in between. Someone like that needs versatile pieces that can adapt to every activity, and Jennifer Garner's black tote bag is just the thing.
Garner was photographed on her regular route in Brentwood on Weds., with coffee in hand, of course. Although the outfit she sported wasn't exactly groundbreaking — her typical sweatshirt, jeans, and sneakers look — it did prove one thing: She's not putting down that Bottega Veneta bag anytime soon.
This is the third day in a row that Garner has carried her trusty Intrecciato Garda tote. The wear-with-anything bag is made of woven lambskin, and although its straps are lengthy enough to slip over a shoulder, the actor prefers to carry it in-hand.
Garner really does wear it with everything, too. Lately, she's been pairing it with her loungewear looks — a gray sweatshirt by KULE and jeans on Mon., sweats and a zip-up jacket on Tues., and bright-blue sneakers on Weds. — but the Alias actor actually debuted the bag during a night out on the town.
A week ago, the mom of three dusted off her heels for a dinner date at Giorgio Baldi. She wore wide-leg denim, a sleek burgundy sweater, and the tote that would quickly become a permanent fixture in her wardrobe.
She's not the only celebrity who's been obsessed with the accessory, either. Kate Upton carried it nonstop from 2015 to 2017 and before that, Kim Kardashian had it in rotation. It's hanging in Emmy Rossum, Amanda Seyfried, and Nicole Richie's closets, too.
Still relevant after six years, it seems as though this little black bag has earned the title of a timeless staple. Needless to say, you're guaranteed to get your money's worth with the splurge. Shop Jennifer Garner's favorite tote and others like it, ahead.
Shop The Look