There's So Much Great Winter Gear Marked Down In J.Crew's Long-Weekend Sale
J.Crew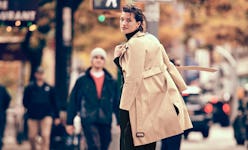 It's okay to admit you only remember that Presidents' Day is approaching because of the clothing sale emails that start to pile up in your inbox. The floating holiday falls only a few days after all the Valentine's Day hullabaloo ends this year to boot. So if you're only now realizing it's almost the third Monday in February (where did January go, anyway?), here's a reminder: You need to check out J.Crew's Presidents' Day sale.
Why this one in particular out of all the ones undoubtedly arriving at your virtual doorstep? J.Crew's sale includes both full-price items and pieces already on sale. Any eligible item will be marked with the phrase "30 percent off full price with code WKND", which conveniently tells you basically everything you need to know. Just pop in the code as you check out, and voilà: savings. You should note how long you have to browse the store, though — the sale kicks off Feb. 12 and goes all the way until the holiday on Feb. 18.
Chances are high that you'll be able to find any winter gear your wardrobe is missing. The sale covers J.Crew jackets, sweaters, shoes, and winter accessories (like these once $98 cashmere-lined leather gloves you can wear while texting, on sale for $55.99). If you only grab two things from the sale, make it the 2011 Icon trench and these Nordic wedge boots. The classic trench exudes J.Crew's polished, preppy aesthetic, and the subtly feminine winter boots will complement the vibe. The sale rolls back the cost of the regularly $228 trench coat to $159.60, and marks down the boots from $208 to just $83.99.
It goes without saying it's time to stock up on workwear, too. Grab one of J.Crew's best-selling dresses, a $148 tailored sheath made from matelassé fabric, while the promo code marks it down to $103.60. The dress is the epitome of easy: Its textured fabric and fitted shape will make you look incredibly put together. Just throw it on in the morning and head out the door.
Need something to pair up with all the blouses you already own? Don't let the name of the Princess Mini Skirt fool you; reviews say the length is perfect for work, so snag it on sale for just $55.99 with the code.
Keep scrolling down to browse all the sale pieces you shouldn't miss for yourself, then head over to J.Crew's website to scour the men's, kids, and home section, too; there are gems from this sale site-wide.