This New Sweater Coat At J.Crew Will Be Your Go-To This Winter (& It Just Went On Sale)
J.Crew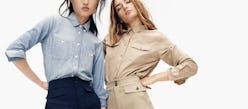 Let's be honest: Flash sales have a way of getting a shopper's attention like no other type of retail event, and J.Crew's flash sale is no exception. From the limited time frame to discounts on items that otherwise wouldn't be on sale, it's safe to say the adrenaline rush is real, so why shouldn't you go with it? Like the phrase often goes, there's no time like the present, and you better start shopping now; with a sale like this, some of your favorite pieces are bound to sell out.
For 48 hours, you can get any full-priced item for 25 percent off when you use the discount code "SHOPTOIT" at the checkout. That chic Ella Sweater Blazer you've been eyeing all season? Now, it's available for $126 with the code. Whether you've been looking to refresh your winter work wardrobe, or you simply want some polished basics to wear every day, you can get it all.
Leave it to J.Crew to have classic pieces of clothes you can wear for years. With this flash sale, you can stock up on warmer pieces such as this Dolman Sleeve Sweater Dress or the 1988 Rollneck Sweater in Merino Wool, both of which can be dressed up or down and respectively cost $96 and $67 with the discount code. Or, you can get this 365 Stretch Turtleneck Bodysuit, which will be available for $37, to wear on its own with a pair of sleek trousers or layered under your tops and dresses.
If you're looking for a chic blazer to throw on over all of your office ensembles, this Parke Blazer in Houndstooth Wool, which you can get for $171, will feel like an update from your standard black jacket, adding another dimension to your looks. Style it over your favorite button-down shirt and with these Wool Flannel Full-Length Trousers, which will also be an office staple. For an elevated touch to your ensemble, a pair of pointed-toe heels will never steer you wrong.
For the moments when you want to be more casual, create a cool, all-denim ensemble with this Button-Front Denim Popover and a pair of your favorite jeans. If you want to add a layer underneath, go with the Tissue Turtleneck T-Shirt in Stripes to give it more visual texture.
So what are you waiting for? Scroll down to give yourself a head start on shopping with the pieces below.