Jaclyn Cosmetics Is Finally Here & Its First Lipstick Collection Is Selling Out So Fast
Courtesy of Jaclyn Cosmetics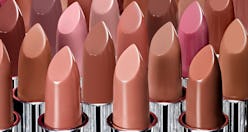 Beauty fans had been waiting on Jaclyn Cosmetics for a long, long time. After five years of careful planning, formula tweaking, and hint dropping, the makeup vlogger and beauty guru Jaclyn Hill finally released her own cosmetics line on May 30. And the new brand's shades are selling out fast — though let's be real, you probably saw that coming.
The hype around Jaclyn Cosmetics' first release, the So Rich lipstick collection, has had the internet buzzing since the moment Hill announced it. The Jaclyn Cosmetics promo video has been watched close to 2 million times on the guru's Instagram, and the official @JaclynHillCosmetics account already has a little over 500,000 followers. After dropping the initial brand reveal video, Hill didn't unveil what the first collection even was until a few days later — and when she posted pics of the So Rich collection's 20 nude lipstick shades, fans flipped.
Admittedly, if you don't keep up with the life and times of the online beauty gurus, this may all feel like you're reading another language. After all, how does one woman step into the beauty industry this boldly, and create a lipstick that captures the internet's attention? It may help to know that Hill isn't a new face in the beauty community; she's been creating makeup tutorials on YouTube since 2011. Since then, Hill has amassed nearly 6 million followers on the video-sharing platform, and has gone from releasing Kim Kardashian-inspired beauty tutorials to collaborating with the mega-influencer herself.
This isn't Hill's first foray into the business side of cosmetics, either. The beauty vlogger has had her hand in some of the most talked-about makeup releases from the past few years, like the Morphe x Jaclyn Hill vault eyeshadow collection or the BECCA x Jaclyn Hill Champagne Pop highlighter. (Which is currently listed on Sephora as BECCA's best-selling Shimmering Skin Perfector shade.)
But about those lipsticks. Swatches of Jaclyn Cosmetics' So Rich lipstick collection show that the guru — and her new company — refused to start small. To some, beginning with 20 nude lipstick shades is a bold move on its own. You can see why the brand went with the collection once you look at it together, though; at $18 per tube, it'd be hard to find one shade amongst the collection you wouldn't want to wear every day. Jaclyn Cosmetics also upped the product's versatility by making the buttery, collagen-infused formula completely vegan and cruelty free.
And if Jaclyn Cosmetics can win a spot as a staple product in its shoppers' beauty collections, the rest may just be history. Continue scrolling down to explore a few of the shades left in stock from Jaclyn Cosmetics' first release. Don't worry if a color you fell for is sold out, too — the brand revealed on IG that a So Rich collection restock is arriving this June.