The Surprising Reason You Might Want To Skip Mascara Tomorrow Morning
Albert Urso/Getty Images for NYFW: The Shows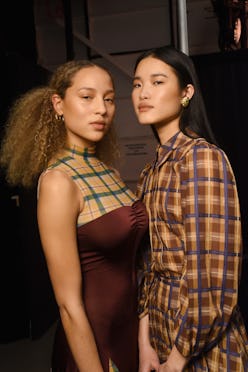 Ask a makeup aficionado what their desert island product is; chances are you're going to hear them make the case for mascara. It's a product that many — myself included — cannot imagine skipping in the morning. I could have my concealer, my blush, and my red lipstick taken away. But so long as I had my mascara and eyelash curler, I'd feel prepared to face the day. During the Fall/Winter 2019 shows in New York, however, there were a myriad of makeup artists who did not share my mascara obsession. In fact, at plenty of shows, artists were choosing to double down on the no mascara look. The reasoning? A lot of the artists we spoke to wanted to to maintain a more natural look.
Backstage at Jonathan Simkhai, Maybelline lead makeup artist Grace Lee opted to skip mascara to draw more attention to the gorgeously pigmented lips she painted on the models. "We wanted the skin to look as natural as possible, did a very minimal brow, and used no mascara to keep it very, very clean on the eye," she tells The Zoe Report.
The ethos was similar backstage at Staud, where lead makeup artist Erin Parsons, also working with Maybelline, kept the lashes clear of mascara in order to maintain a fresh and natural look. "We're using a lot of bronze tones around the eye, so I didn't want mascara," she explains.
In other instances, however, the lack of mascara seemed to point to a desire to not detract from the overall eye makeup look. Backstage at Michael Kors, Dick Page opted for a glossy, disco-inspired smokey eye. Some models got a bronze and gold, while others got a violet hue. What they didn't get, however, was mascara.
"The gaps you leave are just as important as the things that you do," Page says, describing his reasoning for skipping mascara. "It just keeps the makeup fresh. It's cab makeup." It was a similar sentiment to that of Diane Kendal who, backstage at Prabal Gurung, let her smudgy, glossy eye shine sans mascara. She skipped mascara in order to not crowd the sheen of the eye look she conjured up, creating an unobstructed look that will have you reaching for your eye gloss.
At Proenza Schouler, working with Maybelline, Page skipped mascara again — but this time, it was in order to keep the eye look more masculine. "There's a lot of tailoring and menswear fabrics [in the collection]," Page says. "It's not quite beautiful, but there is something striking about it." In order to maintain that striking quality, Page skipped mascara. Instead, he sent models down the runway with barely-there makeup or a thick shock of black across the lids.
Just because you skip mascara doesn't mean you have to miss your lashes all together. Both Parsons and Lee still gave their models' lashes a quick curl in order to open the eye. So you still look awake, but just a little more naturally awake, which is definitely an aesthetic that is appealing to me, a mascara devotee. And if the looks backstage are any indication, life without mascara can still be seriously gorgeous.