Meet Même Chose, A New Brand Paving The Way For Shirting (& Size-Inclusivity) In Womenswear
Courtesy of Même Chose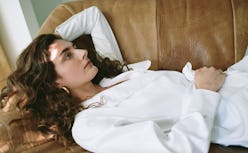 Even before the birth of the new, inclusively sized shirt brand Même Chose, its founders were attracted to the simplicity of shirting. "I have seen my husband out the door in approximately 2 minutes looking great," Alison Bergen, who founded the brand with friend and fellow industry veteran Jessica Joffe, tells The Zoe Report over the phone. "And I've just been staring with envy at the extreme organization and clarity of the men's wardrobe. You look at it, and it's just shirts organized by color, trousers, and a few shorts. That freedom, that confidence with which men can dress — with a few simple solutions like shirting — is pretty inspiring. And it's impossible to find that in the women's space."
Well, not anymore. Même Chose — "the French translation of 'same thing'," Bergen notes — is the direct-to-consumer answer to a once-accepted problem; shirts (and one shirt-dress) dominate its website, and are split into four simple categories: Whites, Blues, Plaids, and Sale.
That's not to say that the shirts themselves are simple, though. Clever, woven-in details leap out, like a feminine ruffled collar or removable matching cummerbund. "Obviously, we're a very focused brand. Shirting is really the core of our DNA, what inspires our aesthetic and our sort of way of dressing," Bergen says. "Même Chose really means the same thing for all women, same thing for women as men, same thing for women of all sizes."
"Part of our endgame is to be size-agnostic," notes Jessica Joffe. "We felt that sizing is so arbitrary, regardless of if you're a size 0 or a size 20. Wherever you go, you're three to four different sizes." To work toward a solution, Même Chose offers a non-traditional sizing chart, which includes sizes 0 through 20. "So we thought, let's just invent our own conventions."
And being a more size-inclusive brand was never a question for the founders. "We felt very strongly about — well, very strongly is an understatement. We felt it was just like a no-brainer. You can't create a brand in 2019 and have it not be be inclusively sized," Joffe says. "More time goes into development when you're working with a size scale the way that we are, the way that any inclusive brand is. It's more time, more resources, more money, and so on and so forth. But I think it's mandatory. It's logical to us, it doesn't even have to come from a personal place. Fashion has a way of making all people, regardless of whatever size or shape you are, feel bad. It can do that," she adds. "And I think that a big part of what we wanted to do was eliminate that for people."
As you may guess, this well-tuned awareness of the industry comes with experience. "Alison and I met when we were both working at DVF. I was on the brand side, she was on the product side," Joffe explains. "Even though we couldn't have been working in more different departments, we somehow met early on, like in my first week there, and immediately started talking about what was interesting to us about our industry, what needed changing.
"We really, really, really believe in timeless elegance. We believe in seasonless clothes. For us, a big part of what we were trying to work on was the notion of smart casual," Joffe continues. "We wanted it to resonate like a canvas in a way, so you can use these shirts as a way to express who you are as opposed to letting the shirt wear you. It's about the woman inside and not the shirt."
You can find Même Chose's styles on Meme-Chose.com. Below, a few shirts to add to your closet first.