IKEA's Winter Sale Has Everything You Need To Get Organized For The New Year
IKEA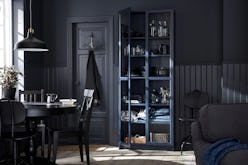 You've probably already noticed, but a new year has just begun. Though you may have just stepped into 2019, it's never too early to start thinking about how you'll take on the next 12 months — and in style, no less. Despite the fact that a full-on makeover worthy of a movie montage may be your first instinct for a reset, take a browse through IKEA's winter sale instead. From bookcases and comfortable chairs, these pieces will ensure all your everything in your home — including your sanity — is neatly in order for the year.
From now until Jan. 6, IKEA is allowing anyone who has signed up to become a part of IKEA Family up to 30 percent off on major home necessities such as this Billy/Oxberg Bookcase, available for $320 as part of the sale. While you might find the idea of a membership to the Swedish furniture retailer on the daunting side, don't let the title scare you away from saving on a few key items that'll keep your home organized throughout the year. In fact, the only thing you need to get in on these deals is an email address. Once you've done that, the sales are yours for the taking.
Put yourself in the right mindset as you plan out 2019 with this Alex Desk, available for $99 instead of its regular $149 for any IKEA Family members. This desk is also available in both gray and beige, making it an easy option no matter how you define your home décor aesthetic. You can also use a bookcase for more than just books. Opt for a simple three-shelf Billy Bookcase, which costs $34 instead of $49, for additional shelving in room. Or, you can have a taller, glass-paned Bookcase from Billy/Oxberg, $170 during the sale, to hold a number of items ranging from coffee table books and photographs to linens, depending on where you place it.
If you want to put an added touch of je ne sais quoi into your living room or bedroom, you can add in a Standmon Wing Chair, which is available in brown for $189 or light beige for $169. Give yourself some extra seating while also making your house feel more like a home in 2019.
Now, scroll down to shop more pieces that are available on sale for IKEA Family members online.