The Genius New Storage Solution From IKEA That Every Home Needs
Courtesy of IKEA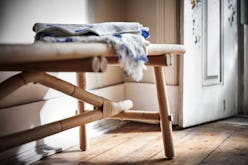 With March coming to a close shortly (time flies, right?), April will bring a whole new set of launches. However, for those looking to spruce up their living space for the new season, it's the release of IKEA's TÄNKVÄRD collection that you should pay particular attention to. The latest offerings from the Swedish brand bring together natural elements with modern design in both neutral hues and serene shades of blue that'll breathe new life into your space.
Composed of furniture, textiles, and home accessories, the new range of styles from IKEA is all ease. "This collection is all about self-care: embracing what is calming, pleasing, relaxing. It's about going back to basic human needs," said IKEA designer, Akanksha Deo, in a press release. This sentiment translates into every piece of the collection, starting with the furniture, which is all made out of lightweight, neutral rattan, making them a breeze to move and easy to style into different spaces.
And while each furniture piece has its own special qualities, there's one standout style that you should set your sights on come April: The TÄNKVÄRD Room divider for $89.99. Why? Because this versatile piece will not only create separation in a multi-purpose room effortlessly, but it can also become a visually interesting storage solution. Instead of trying to find places to tuck away items, use the rungs of the open design to hang everything from clothing and linens to accessories.
"I designed a piece that's technically a room divider, but there are actually plenty of other ways to use it. My own name for this piece was 'open wardrobe,'" said Iina Vuorivirta, IKEA designer, in a press release. "There's something about how you can hang your clothes on it in an easy, casual way that feels very right with the whole atmosphere of the TÄNKVÄRD collection."
But for those shoppers tight on space, you may want to consider the TÄNKVÄRD Clothes stand for $49.99 instead, which is smaller in scale and leans against the wall. The vertical rack, however, will still provide a stylish and functional location to hang towels and blankets. In addition to these two larger pieces, the collection features rattan and seagrass baskets that can be used as more aesthetically pleasing storage spots.
The previously mentioned pieces are just the beginning when it comes to this collection, though; you'll also be able to add a wash of blue to you space with a range of textiles that include bedding, towels, and curtains among other items. So, be sure to check IKEA.com in April 2019 to start shopping these items and more when the TÄNKVÄRD collection becomes available.