I Rented My Holiday Party Dresses, And Here's What I Learned
Alberto Mihai/REX/Shutterstock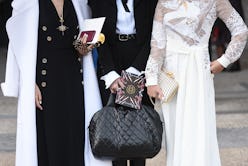 The habit of buying outfits solely for a single, specific event — say a wedding or holiday party — is a dangerous one. Fancy outfits aren't usually a budget-friendly purchase, and unless you're frequently in cocktail attire, there's a good chance you'll wear said outfit once — especially if you're donning it somewhere you'll be photographed. On a personal quest to look festive without regretting my purchases, I decided to try a different route this season. Rather than investing in one or two big ticket items I'd barely wear, or mindlessly buying cheaper pieces that inevitably fall apart and end up in a landfill shortly thereafter, I decided to road test a few rental and consignment alternatives instead. My review: designer dress rental websites are a genius way to master holiday party attire.
An important fact worth noting about my experience is that not only did it allow me to have more fun creating my holiday outfits, it was less wasteful. Currently around 80 percent of discarded textiles and clothes end up in landfills instead of being recycled or reused. Retail consumption has increased by 60 percent since 2000, according to the World Resources Institute, while garments are being kept for half the time. Crops like cotton take huge amounts of water, while dyes and processing factories generate chemical waste that is harmful to the environment. In 2015, the production of polyester textiles (a common fabric for fashion fashion items), was responsible for the equivalent of 185 coal-fired power plants' annual emissions. Enough to make even the most dedicated fashion-obsessive think. And while the carbon footprint of deliveries is something to consider, every little bit helps.
I decided to try out Armarium, a luxury rental service that has a pop-up with the CFDA in NY this month. They offer a range of fashion-forward designer pieces that aren't noticeably outdated feeling, which makes it a great alternative resource for (often-pricey) cocktail attire. My picks were a red polka dot style for a dinner party, a blush midi dress for my husband's office party and a pailette minidress for a holiday party I was hosting. One tip: I recommend staying away from renting jumpsuits from anywhere because fits vary so much from designer to designer.
Next up; accessories. Barring hugely specific trends, like the chunky-soled sneaker, major shoe designers don't vary their classic styles greatly from season to season. This makes footwear a great category for scoring on discounted sites or the second-hand market. Vendors like The Outnet and Yoox offer unworn, past-season styles for a fraction of their original price. Alternatively, if you peruse destinations like Vestiaire Collective, The Real Real or a consignment store, you're bound to find a barely-worn pair of beautiful, well-made shoes. I scooped up an over-the-knee boot, a pair of classic pumps and a metallic sandal.
For parties and weddings, you're typically looking for a clutch or statement bag, which you wouldn't normally invest in unless you knew you were going to be wearing it constantly. Instead of spending full price, I searched Rebag for a lightly-worn alternative. A cool bonus is that Rebag lets you return your purchase within six months for 70% retail credit, which essentially means you can refresh just in time for summer wedding season. I opted for a polished ladylike purse and a whimsical clutch.
Finally, getting dressed up wouldn't be complete without jewelry. Whether statement earrings or a delicate chain, a beautiful bauble can really elevate any look. Switch offers an unlimited membership to their jewelry rental service starting at $29 a month and you can keep pieces for as long as you want — which is particularly convenient if you're traveling.I chose pearl drop earrings, a necklace, and sculptural earrings that I could mix and match with a range of outfits.
All in all I spent about as much time coordinating the rentals as I would have done shopping, and saved myself a considerable amount of money (and remorse). More importantly, though, I came away feeling a little less guilty about the impact my consumption was having on the environment. Would I recommend this route for every day outfits? Not necessarily, but for special events and weddings I would do so resoundingly.