The 8 Most-Coveted Pieces From Hunter's New Collection To Buy Before They Sell Out
HUNTER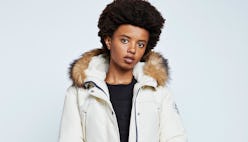 The first thing that likely pops into your head when you think about Hunter is its collection of cult rain boots. But there's a lot more that the British brand has to offer. When it comes to braving the chilly temperatures, Hunter's Cold Weather collection is one you don't want to miss. This season, the brand is serving up a strong lineup of winter-ready pieces that'll keep you both warm and dry as you battle the frigid air and inclement weather. But, you'll have to move quickly on these pieces, as styles are selling out overnight.
For Autumn/Winter 2019, Hunter unveiled its new collection of cold weather gear with everything you need to fight the freezing temperatures. You can scoop up outerwear, boots, accessories, and more — basically all the pieces required to complete your go-to winter uniform. And to make the range that much easier to shop, Hunter created clearly defined temperature and waterproof ratings that'll give you a better understanding of the level of insulation and water-resistance an item provides.
An essential part of creating your cold weather look, a coat that's not only stylish but functional is key. And, it just so happens that Hunter has several styles that fit the bill, including the best-selling $275 Women's Original Long Puffer Coat, which will keep you warm in freezing temperatures. However, if you prefer a shorter silhouette, the brand has you covered there, too, with several other styles that promise to keep you warm in brisk weather.
Shoppers are taking notice of these styles, as Hunter reports that sales across the puffer collection this season have grown 1162 percent. But, that's not the only outerwear category that's seen a lot of movement. According to the brand, it has sold 10 times more insulated parka coats than last year. And considering the $375 Women's Original Insulated Parka is not only chic, but highly practical (it's fully waterproof and can be worn in temperatures as low as negative 13 degrees Fahrenheit), it's easy to see why shoppers are adding it to their carts.
While most of the country is still waiting on the first snow fall of the season, Hunter is seeing major snow boot sales already. This means you'll want to scope out the styles ASAP before your size sells out. Start by taking a look at the Ankle Snow Boot, the Short Snow Boot, and the Tall Snow Boot — all of which come in a few color ways, are 100 percent waterproof, and prove to be highly-insulated. No matter which of the three boots you choose, you'll have the ability to wear your pair in weather as low as negative seven degrees Fahrenheit.
The 100 percent waterproof and insulated Women's Roll Top Sherpa Boot, $125, is another standout in the mix. Designed to withstand temperatures as low as 23 degrees Fahrenheit, this is a cozy style you can easily slip into for the morning and evening commute when a couple pairs of socks might not be enough.
Continue on to shop a selection of Hunter's most coveted winter styles while they're still in stock.