Huda Beauty's Matte & Metal Eyeshadow Is About To Get A Lot More Colorful
Huda Beauty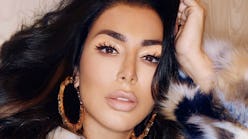 Why would you spend forever perfecting your eyeshadow — or just getting both eyes to look the same, which can be enough trouble — when you could create a perfect, glamorous look in just a few seconds? That's the question the Huda Beauty Team proposed to the world when introducing how to use the new Huda Beauty Matte & Metal Melted Shadow shades. And it's a seriously good question. Between spending a half hour attempting, wiping off, and restarting a cut crease, why not just dab on some color, blend it out, and be done with it?
Of course, the genius of Huda Beauty's Matte & Metal Melted Shadow isn't news for fans of makeup artist Huda Kattan's fast-growing brand. However, they may have missed the memo that five colorful new Matte & Metal Melted Shadow shades are coming out soon. As in, Feb. 15. You'll be able to get them on Huda Beauty's online store, or at other retailers like Sephora and Net-a-Porter, for $25 apiece.
"After the first five Matte & Metal Melted Shadows, we just knew we had more to give!" Huda said in a press release. "These new shades are gorgeous and super glamorous — just like the 'glitterati' that inspired them. But, they were truly made for everyone — these shadows will take you from the coffee shop to the private jet. The formula was a true labor of love, so I'm super excited for everyone to try them, and see how creative people get!"
Each shadow is sold as a dual-ended duo with two liquid colors. If this is your first time experimenting with liquid glitter shadows, grab the subtler Double-Pump Latte & Drop Top duo, a bronze glitter with a tan matte. Try out one of the other four duos, like Room Service & Do Not Disturb, if you're ready to spring into color; you'll get a creamy terracotta shade and an on-trend rose gold glitter.
Naturally, Huda Beauty already has a tutorial on how to use the eyeshadows to create four glam looks — so if you want to take one of the bolder color combos for a spin (like the minty Minted & Dinero duo), check out what the artists did with the makeup.
Better yet, Huda Beauty promises the long-lasting shadows won't budge from your lids until you want them to, for up to 12 hours of wear. Don't believe it? Take a look at the video Huda Beauty posted of the original eyeshadow swatches holding up under a pouring faucet. It's genuinely impressive.
Below, the brand-new Huda Beauty Matte & Metal Melted Shadow shades, available Feb. 15.