My Iced Coffee Cravings Are No Match For This $7 Toothpaste
Jennifer Polixenni Brankin / Getty images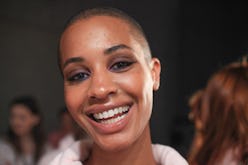 Maybe it's the New Yorker in me or an attest to the lack of sleep I get, but I love coffee. But if you're an avid drinker like me, you know that a grande blonde roast is incomparable in taste, but can take away from the whitening of your teeth. Since I don't plan on giving up my cold brew that easily, I'm always looking for ways to whiten my teeth after drinking coffee when I can't make an appointment with my dentist.
Coffee contains tannins, which break down the enamel of the teeth and weaken it over time, contributing to yellowing. And the amount of permanent yellowing on your teeth depends on the amount of coffee you drink every day — the more cups, the more yellowing. And while in-office whitening is always an option, the last treatment I tried lasted over an hour, which is a big commitment with my schedule. So I committed to trying strips, whitening trays, and whitening pens — you name it — that'd give me professional results in a shorter time span.
According to Dr. Marc Lowenberg, celebrity cosmetic dentist of Lowenberg, Lituchy & Kantor, any treatment that you try should contain hydrogen peroxide. "Hydrogen peroxide in whitening products accelerates the process of breaking up the surface stains on teeth to make them appear brighter," he says. Since I already had that in my medicine cabinet, I tried a homemade paste of baking soda and peroxide first. "This cleans surface stains, kills bacteria that sits on the teeth, and makes them stay whiter," Dr. Lowenberg says. "Slowly pour the hydrogen peroxide into the baking soda powder and mix enough liquid and powder, so the consistency is the same as toothpaste. You can do this every day — morning and night — just the same as you would use any other toothpaste."
Eventually, I graduated to white strips and even played around with oil pulling, a method that I was a bit skeptical about. At first, I wasn't a fan of swishing heavy coconut oil around for blocks of time and was deterred by the taste, but the fast results proved to be worthwhile — and eventually, the taste wasn't so bad, either.
Bottom line is this: if you're not opting for Zoom whitening, then DIY treatments will take time. But with patience, you'll get a smile that withstands any amount of caffeine. See the seven products that always work for me, ahead.
Shop At-Home Teeth Whitening