11 White Denim Outfits You Need to Try This Winter
Pixelformula/Sipa/Shutterstock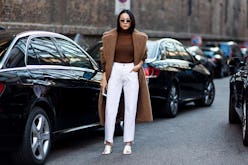 It may strike you as odd that at a time of year when the scenery tends to be more covered in white than ever, wearing white is somehow taboo. Why is there this unspoken rule that even though Mother Nature is doing it, everyone else shouldn't? Fortunately, most women have begun to abandon the archaic notion that you shouldn't wear white after Labor Day, and instead embrace the chic potential of wearing white all winter long. For some articles of clothing it's obvious: White sweaters, white coats, white boots — they all feel inherent and exclusive to a cold-weather wardrobe. But how to wear white jeans during the winter? Since light denim has its roots in your summer closet, it's a more challenging item to reconsider for winter wear.
The key to making the transition starts with choosing your most seasonable pair. Ideally, they'll be a heavier denim with minimal stretch — nothing too flimsy or see-through (those aren't exactly markers of appropriate winter attire). Shake any remaining nautical associations or weekend-in-July vibes by styling your white jeans with plenty of layers and touchable textures. Cashmere, velvet, fur or shearling should do the trick. When it comes to color combinations, luxe hues like olive green or teal blue are a nice contrast to crisp, clean white, while neutrals such as camel or cocoa create a softer look. Of course, black and white is always right too. And for the freshest option of all, build an ensemble entirely in shades of ivory, cream, and snow. Continue on for some chic outfit ideas to inspire your dalliance with white jeans this winter.
Go monochrome with a palette that ranges from milky white to oatmeal. A slouchy scarf-neck sweater is winter-ready, and the wide-leg jeans help balance out the oversized top half.
Pair a crushed velvet shirt with a furry topper in a similar hue and leave the rest of the look neutral. Heavy-weight white denim looks cool with a little frayed action at the hem. Pro tip: If you select a style that's slightly cropped and flared, it'll keep the bottom of your white jeans from getting dingy.
Nothing welcomes cold weather quite like a camel coat. A classic tan coat is the perfect pairing for an otherwise white ensemble. And white jeans tucked into white knee-high boots is a look you need to copy stat.
Sporty and stylish collide when you flank your white denim with a cozy puffer coat on top and sleek snakeskin boots on bottom. The heeled shoe also allows you to go a bit longer in the jeans for a leg-lengthening effect.
If you thought crisp white and lime green was a combo exclusively for summertime, think again. A bold pop of color (whether it's acid green or some other electrified bright) is a chic, high-impact complement to the blank slate of white jeans.
Here's just one more reason to hop on the teddy coat trend. This fuzzy, oversized outerwear style gives snowy white denim the hefty dose of coziness it needs to look ready for winter.
All-over white needn't be boring or plain. Give a white t-shirt and high-waisted chalk denim a trendy twist and throw on a soft shearling jacket and white cowboy boots.
Nubby forest-green tweed and supple brown suede give airy white denim a more rustic, down-to-earth appeal. Add a striped turtleneck for extra comfy points.
Most likely, when you think of pastels, you think of spring. But cozy, candy-colored layers feel feminine and fresh alongside slim white jeans. Throw on a thick-knit beanie for good measure — and if you're feeling seasonably festive, some sparkly silver shoes as well.
Nothing is more foolproof and classic than a simple black-and-white look. An easy way to give slouchy white jeans a cold-weather update is by throwing on a black turtleneck, white coat, and black boots. You can't fail with this timeless formula.
White jeans and a striped top? Surprisingly, not just for seaside excursions. Swap out the summery flats that would normally accompany this look for a pair of jewel-toned ankle boots, and top things off with a long fur coat (preferably in another rich, ultra-luxe hue).