4 Non-Boring Ways To Refresh Your Little Black Dress
REX/Shutterstock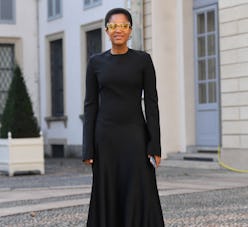 Karl Lagerfeld once said: "One is never over-dressed or under-dressed with a Little Black Dress." A telling statement from fashion's finest couldn't ring more true, considering the storied legacy of the LBD, which first debuted during The Roaring Twenties. Heralded far and wide as the single most important item in a woman's closet, Gabrielle "Coco" Chanel was the first designer to introduce the iconic item in 1926, singlehandedly teaching women how to wear a little black dress in a whole new way. Her revolutionary design concept ignited a wave amongst the fashion set, and gave women everywhere a reason to don black—besides when in mourning.
"The heritage of the little black dress is about the fact that it could take you to any occasion and it was a staple you could always rely on," says Maggie Marilyn, a New Zealand-based designer who sells quite a few modern, revamped versions of the wardrobe staple. "Now, there are so many ways to approach [designing] the LBD based on the silhouette and fabrication of the dress." This season, fashion's most formidable designers are steadily churning out modern iterations that feature subtle feminine detailing, bold silhouettes, and don't belong anywhere near a wedding or a black-tie gala. "Black is such a strong color," notes Marilyn. "I like it to feel feminine, approachable, and less formal."
The evolution of the LBD has lead to a more relaxed interpretation, but has also broadened the definition of what a Little Black Dress actually is. "What makes the LBD current is that it's not necessarily so 'little' anymore," says says fashion stylist Rachael Wang. "Modest silhouettes in midi lengths with long sleeves or turtlenecks feel fresh and more appropriate for day. And the great thing about dresses is that they don't require much styling." Wang notes that personally, she wears her favorite styles with statement earrings from SVNR and a festive animal print bag.
Rather than donning your tried-and-true LBD for a formal occasion, it's time to bring the classic mainstay into the daylight, as delicate ruffles, voluminous puffed sleeves, and streamlined silhouettes are sure to be the season's key players. Below, you'll find four ways to incorporate the newly reinterpreted LBD into your everyday style routine.
On A Date
To The Museum
To A Weekend Dinner Party
To Work