How To Wear Fall's Most Unexpected Cozy Street Style Trend
Cornel Cristian Petrus/Shutterstock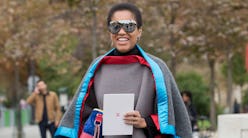 You probably don't think about capes all that often. Despite the fact that they've been around for centuries, they aren't exactly in every closet; maybe it's because they're more closely associated with the slew of superheroes that wear them, or because Dracula gave them a bad name. Still, the silhouette is perfect for fall, and it's making quite the comeback: That said, you may wonder how exactly to wear a cape without feeling like a Renaissance player. "If you want to wear capes this fall without feeling costume-y, I say keep it contemporary, keep it loose, keep it minimal," stylist Sissy Sainte-Marie tells TZR. "Avoid extra embellishments, bold colors, going full-retro, or being too buttoned-up."
Why embrace a cape at all this fall? On the Fall/Winter 2019 runways, brands like Chanel, Marc Jacobs, Miu Miu, Valentino, and even Celine endorsed the style, all offering up wearable iterations that feel like a natural addition to an existing autumnal wardrobe. But capes were also prominent outside the shows as a cozy layering piece utilized by many street style stars. "I would say keep it simple and classic," advises stylist Sarah Schussheim. "A cape with a pattern like plaid could be great with either a darker or lighter solid base, like a black turtleneck and simple cigarette pants." She also notes that it's key to consider the piece's proportions when searching for the right fit. "For a more voluminous cape, play with more tailored shapes underneath or match volume with volume and do a wide leg pant with a good platform."
Ahead, see a few key examples of how to pull off a cape like a trend-forward street style star, and shop your favorite picks to revive this classic trend.
In The Trenches
Swap out your trench coat for a cape version that feels unexpected and surprisingly modern while providing the same level of weather protection.
Security Blanket
Reach for a poncho or blanket-like cape that not only looks great but feels great as well. Just add trousers or jeans and your favorite boots and you'll basically feel like you never got out of bed.
Pattern Play
Find a cape that features a bold color palette or eye-catching pattern theme, like stripes or piping. The piece will feel like a smart alternative to your standard coat and you can layer other pieces underneath if the weather is cool.
Quilt Club
Quilted pieces feel especially of-the-moment for Fall/Winter 2019, which is why reaching for a cape that features the texture is a smart choice.
Subtle Details
Just because you want to wear a cape doesn't mean it has to follow a traditional silhouette; instead, find designers who are offering updated, modern riffs on the classic piece.
Dress It Up
Though you typically associate capes with outerwear, don't shy away from dress versions as well. The silhouette feels formal and out of the ordinary. It makes for an interesting take on party dressing, especially heading into the holiday season.
Neutral Hues
The best way to organically incorporate a cape into your outfit is finding one in a versatile, neutral color, like Olivia Palermo's army green version above.
The New Suit
Try a caped blazer instead of your classic jacket for a fresh shape. Suiting is a major trend right now, and a caped option feels different from the other oversized styles currently dominating.
Printed Poncho
If all else fails, find a poncho and toss it over your favorite sweater-and-jeans outfit; the result is most likely to look effortless and in line with the rest of your look.