Plan The Ultimate Halloween Party That People Will Talk About For Years
Michael Kovac/Getty Images Entertainment/Getty Images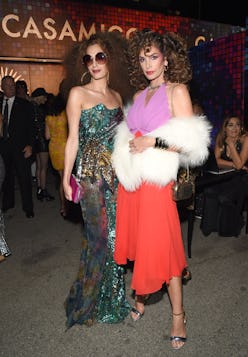 In thinking back on Halloween parties of yore, buckets of candy, The Monster Mash, and some sort of costume contest or parade was involved. And while those soirées have a certain charm, these days, more sophisticated Halloween affairs are taking priority. You, know the ones where you don't have to bob for apples or get nauseous from the sugar intake. (Although, revisiting these moments from time to time can be fun!).
Are you a rookie in the Halloween party business? No worries, as throwing an event that's equal parts fun and chic is actually not as difficult or intimidating as you might think. In fact, you don't need a larger-than-life budget or even a ton of energy or time to expend on an unforgettable night. You just need to have some key components in place.
The beauty of Halloween is that the costume factor, festive music, and fun decor, allow for little to no new ideation or reinventing the wheel when pulling off a party. However, if your guest list is an adults-only roster and you want a chic and sophisticated edge, there are some small tweaks that can be made to go that route — but, they're not labor-intensive.
Ahead, party planner extraordinaire and owner of Stefanie Cove and Co. Stefanie Cove was tapped to offer a few key tips on how to throw a Halloween affair to remember, sans fake blood and zombie apocalypse themes.
Skip The Horror
Cove suggests skipping overly gory themes and sticking to a more light and bright one (although, if that's your thing, go for the fright factor — there are no wrong ways to go here).
"This is the opportunity to pull out your sequin jumpsuit from the back of your closet," says Cove. "I think the way to keep it chic is to go with an old-school vintage Halloween theme (no zombies allowed!). Encourage 1950's Halloween costumes (think blacked-out cat masks or elbow-length gloves with a diamond ring). Forget the sexy nurse or kitty cat costumes, we've been there done that."
Get Artsy With Your Decor
For decor, Cove suggests sticking to a festive (and slightly spooky), yet glamorous vibe with "sparkly spiders or … a monochromatic installation of witch hats in your foyer hung on fishing line at different levels, as if they are floating like ghosts."
For a color scheme, Cove recommends sticking to black, deep purple, matte gold, and emerald hues. "Spray paint pumpkins matte black and build them up in spooky formations at your front door," she suggests. "Spray a skeleton in matte gold."
Keep The Music Classic
One area to stay traditional or pay homage to Halloweens past is music. "With music, you've gotta have The Monster Mash and 1950's Halloween records," says Cove. "But mix it up with other music you like … think Bad to the Bone and Poison by Bell Biv DeVoe."
Make Refreshments Part Of The Ambience
A good way to cut back on spending oodles of dollars on decor is making your refreshments part of that component. "For drinks buy dry ice that smokes in a punch bowl for the effect," says Cove. "You can also do a spider web brew with champagne and add a little emerald green cotton candy or spun sugar on top."
One thing to note: If you're putting this soirée together last-minute, Cove suggests thinking about the timing of your party. "Try not to have the party right over dinnertime," she says. "Do it before or after so you don't have to provide a full meal."
Also, in lieu of fancy lighting, "Change the bulbs in your home with blacklight bulbs which glow purple and are much chicer than orange and black," says Cove.
As for cutlery, "Check out the Halloween glassware line at Pottery Barn," says the party planner. "If you want to go cheaper; go with frosted shatterproof cups with cute logos like "Boo Crew."