The Fastest (& Easiest) Way To Get Rid Of Tan Lines This Summer
Photo by Jennifer Polixenni Brankin/Getty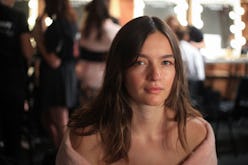 You spent the last six months waiting for the right moment to snap up that perfect strappy Roxana Salehoun swimsuit, and the last three weeks planning the perfect rooftop sunning session at the perfect local hotspot. What you did not plan? Those not-so-perfect, obvious marks on your shoulders, chest, and midriff. Although getting rid of tan lines probably wasn't part of your fun-in-the-sun plan, evening them out is actually a pretty simple fix.
Read more: How To Fix Cakey Makeup In 9 Easy Steps
Even if you've applied your SPF religiously, your skin can still be exposed to harsh UV rays that leave imprints from your swimsuit, and smoothing them out before heading to a special occasion or event can often put you in a pinch for time. Luckily, you won't have to race out to get a spray tan every time you're faced with tan lines. Instead, "try going over the lines and the area where they appear with a tanning cloth. This way, it will cut down on a tanning mess and provide a quick solution," Alyson Hogg, the founder of Vita Liberata, tells TZR. "You'll want to apply [the cloth] on the lighter areas of the skin where you're trying to even out the tan," she says.
And if you have tan lines that are in hard places to reach with your hands or are very small in size, use a brush designed for applying foundation and paint on a bronzing lotion, St. Tropez's Skin Finishing Expert Sophie Evans recommends. "It literally can be used like paint and the brush allows you to precisely fill in tan lines accurately. The lotion should cover your tan lines for about three to four days," Evans explains.
Of course, tanning products don't have to be your only solution — to mask tan lines in a pinch, you can reach for a few products that you probably already have in your makeup bag. "For the most natural finish, I'd suggest choosing a no-shimmer powder bronzer," notes Gabriel De Santino, makeup artist and founder of Gabriel Cosmetics. "You can also use a matte peach-toned blush." Grab a makeup sponge to dab the product on. Just be sure to blend it over the tan lines and onto the surrounding skin to avoid any harsh lines and make the cover-up look less obvious, he says.
Body makeup can also be your new best friend when unexpected tan lines appear, celebrity makeup artist Mary Irwin explains. "To apply, first use a smaller concealer brush to fill in where the coverage is needed, and then use a damp sponge to buff the edges out," she says. "Set with a loose powder, and you're good to go."
To complete your tan line cover-up, "use a setting spray to make sure the products won't move or wear off over time," Daniela Gozlan, a celebrity makeup artist, says. This will help the product stay put and be less transferable to your clothes.
Ahead, see quick solutions for fixing tan lines when you have zero time.