This Is The Secret To Looking More Stylish Every Day
Don Stahl/WWD/Shutterstock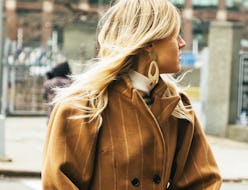 It's easy to fall into a dressing rut in the winter months, when frigid air doesn't offer much motivation to think outside the box. Add to that the increased stress (and hectic schedule) that slams you this time of year and putting together a groundbreaking outfit falls to the bottom of your to-do list. When you're rushing to get out the door every morning, having a simple list of ideas for how to be more stylish can help alleviate the unshakable hum drum feeling that weighs on you when you spend your day not so enthusiastic about what you put together.
Sure, there are times where function is key — if your shirt is on right side out, it's a good day. For other moments, like a big meeting, special event, or simply as a tactic for elevating your mood, you might want to make more of an impact. No matter the reason, there are plenty of motives for re-thinking the reoccurring outfit formulas that have started to feel stale.
The easy solve is sourcing a little outside inspiration. Scrolling through Instagram is a great tactic for locking in a few new #OOTD ideas — street style photographers, influencers, and fashion industry insider accounts are a breeding ground for innovative ensembles en masse. But in an effort to take the legwork out of brainstorming, ahead, fashion directors, stylists, and boutique owners are sharing their secrets for looking spot on every day (and with minimal effort, to boot). Read on for their outfit tips and shopping picks that will keep you looking ultra-chic on your busiest days. Go on, raise your personal style bar for 2019.
Rebecca Dennett, Stylist
Getting into the mindset of dressing better starts with a little bit of planning (sorry, this won't be a totally effortless process), and stylist, Rebecca Dennett swears by a photo journal to keep her outfits on point and fresh looking. "Whenever I'm really busy, I've realized it's not the getting ready, but the deciding on the outfit part that trips me up," she says. "I want to feel strong and love what I'm wearing; invariably though busy periods of life is when you have the most important meetings and first impressions to make."
To get around the common chair pile conundrum many women experience when hurriedly dressing, Dennett spends a couple of hours each week shopping her own wardrobe to think up creative outfit ideas and then takes photos on her phone to keep a record of them — one of her favorites being a punchy turtleneck layered under a slip dress with just-tough-enough boots. Instead of scrolling through Instagram when she's on the subway or stuck in traffic, the stylist scrolls through her outfit ideas album to reference the looks she's come up with and then thinks about other pieces in her closet that she can incorporate for new combinations. "Having five to seven outfits that you feel great about is a game changer," Dennett says. "It's also a great way to rediscover your own wardrobe and look at what you can send to the charity shop."
Caroline Maguire, Fashion Director At Shopbop
Quick and easy outfit formulas typically require no more than three main pieces and Shopbop fashion director, Caroline Maguire, is for a boldly tailored piece as the focal point for instant chic. "I'm obsessing over the '80s movement and there's something really classic and timeless about a plaid blazer. It's one piece to keep in your closet that requires minimal effort — bonus points if it's in a bold color or print," Maguire says. With straight-leg jeans, a simple tee or sweater, and a sleek bag, it's a fail-safe look for easy days at the office, meals out, or for running errands. To dress it up, Maguire says to "pair your blazer with a trouser and a T-shirt for a perfect balance of professional and stylish."
Michelle LeBlanc, Founder And Owner Of MILLE
One of the easiest way to look pulled together in an instant is to have that one hero piece you know you can wear a myriad of ways. For Michelle LeBlanc, founder and owner of the online boutique, MILLE, it's a black bodysuit. "I have a few in rotation: a scoop neck, a turtleneck, and a short sleeve," says LeBlanc. "I then, throw full printed skirts over them with tights and ankle boots, vintage jeans for going out, or wear them under jumpsuits with sneakers when I want to go a little more casual."
Jessica Raiter, Fashion Director of 11 Honoré
Classic pieces are one of the few ways to guarantee a hurried outfit looks good, according to Jessica Raiter, fashion director of the plus-size luxury site, 11 Honoré. "My favorite polished look is a crisp button-down shirt, a slim-fitting pant, a trench coat, and great earrings. You can mix and match colors and you'll never lose — anything from all-black for the perfect day-to-night look to a white shirt with navy pants and a classic khaki trench for errands or meetings," Raiter says.
Fit is incredibly important when it comes to tailored pieces and especially so for curvy and full figures. "I suggest tucking in the shirt if you're an hour glass; go for more volume on top and skinny pants," Raiter suggests, adding that a more tailored top and high-waisted straight leg pants will lengthen the legs.