How Rebecca Minkoff Used Data To Make Her Fall 2019 Collection More Inclusive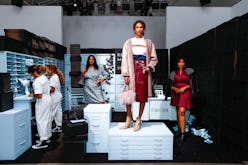 Rebecca Minkoff gets it — technology is here to help, not hurt the fashion industry and if you look closely at collections from season's past you'll realize her ability to marry data and design, proves to be quite successful. Which is why the Rebecca Minkoff x Stitch Fix collection seems like a partnership that was bound to happen— kismet, if you will.
Last Saturday at Pier 59, the designer debuted her eponymous label's latest collection in a presentation during New York Fashion Week. What appeared to be business as usual, was in all actuality the start of something quite remarkable and the long line of people all vying to get a glimpse were proof. Minkoff proudly showcased an eight-piece offering that was designed in collaboration with Stitch Fix to bring her clientele a fashion-forward selection that was inclusive for all. With tops ranging between sizes XXS - 3X and bottoms available in 00 -24W, the ultimate goal was for customers to feel confident and beautiful.
It's no secret that Rebecca Minkoff tends to infiltrate the tech arena. From introducing smart mirrors and self-checkout stations in her brick and mortar stores, to broadcasting her live runway show in 360 Virtual Reality, the designer is constantly brainstorming ways to bring the two (at times) different industries together. For Fall 2019, Rebecca Minkoff teamed up with the online personal styling service, Stitch Fix, once again, (the designer has been a partner with Stitch Fix since 2017 when the label was introduced as a part of the company's premium offerings) to tap into data and general customer feedback that would allow her to strategically design clothing that women actually want to wear.
Courtesy of Rebecca Minkoff
Courtesy of Rebecca Minkoff
"You want to make a woman feel beautiful", Rebecca Minkoff tells TZR in an exclusive interview during her presentation, "And that's focusing on the cut of an armhole, where the waistline hits, or the inseam — all of these things that really are important when you're launching different sizing; whether it's petite or size 24". The designer goes on to explain that these important aspects, and more, were all included in the detailed data report that Stitch Fix shared Minkoff and her team with upon the beginning of their collaboration and the results are just as chic as you would expect.
While only eight select pieces (including skirts, jackets, blouses, and dresses) were designed with Stitch Fix's data in mind, Minkoff attributed this to wanting to make sure that both teams perfect the process, ironing out any of the kinks along the way, and making no mistakes. "We're dipping our toe in at the beginning, because we want to make sure it pans out. And when it does, we'll come back with 12 or 15 [styles] and then keep building on it", she says.
As for her favorite piece from the lineup, she notes the baby-blue satin leopard-print slip Davis skirt, $168, as her go-to pick. To shop this style and the collection in its entirety, head on over to Stitch Fix's website, but run, don't walk because it's selling out fast.