How Will Fashion Survive Coronavirus? Sherri McMullen And Tibi's Amy Smilovic Have A Few Ideas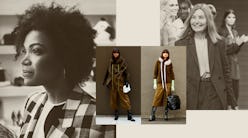 It's 2007, and Sherri McMullen traveled from Oakland to L.A. to define her future. She was prepping to open her eponymous boutique but first, she needed the clothes that would fill it. Amy Smilovic's label Tibi topped the list of contemporary labels that would eventually make the cut. "I remember that collection so vividly," McMullen explains over a group Zoom call, zeroing in on a green cape that served as a first hero piece for the store. "It was in our windows, I actually have pictures, I sent them to [Amy] once." Now, over a decade later, these leaders are navigating how their fashion businesses will survive coronavirus and what the future will hold.
Over the years, both women have continued to grow their businesses and their partnership, collaborating and learning together. In an industry dominated by department stores and global luxury groups, the level of communication and intimacy forged between the two is rare. And that relationship is one that continues even in the midst of a global pandemic. Both Smilovic and McMullen have homed in on their perspectives, growing followings by staying true to their own aesthetics and connecting with the women passionate about their brands. Smilovic tells TZR that Tibi is "the space for women who really appreciated well-made things but they didn't want to look like everyone else."
Now, both McMullen and Smilovic are now having to reimagine their own businesses and face with the uncertainty and new reality for the larger fashion industry. Here, they're sharing the realities of running a business during the global pandemic and speaking to their hopes for a better future in fashion.
Tibi has pieces that seem made to be mixed and matched in so many ways. Where does that sensibility comes from?
Amy Smilovic: It makes sense to be able to buy a group of pieces that can be so functional and worn in so many different places. And I think that level of pragmatism that our mutual customers have ... and that Sherri and I have both ourselves ... it just made sense for us. If you buy a jacket, you want to be able to wear it to five totally different types of events in your life. You want to really get use out of something, you know?
Sherri McMullen: And then you want to wear it for years and years. You want to be able to take it out of your closet five years later and still love it the same as when you bought it.
AS: Exactly. And you get really mad when you don't. I mean, it really pisses me off when I buy stuff that is like one season only, and then I'm tired of it. I get really annoyed.
How is coronavirus reshaping your business currently?
AS: I've told [the design team] that I just want to wait as long as possible to create the product, and we'll do it with our sewing machines in-house. If you asked me to design everything a month ago, it would've been all gray and black and it would've been sweatshirts.
I need to wait to put pen and pencil to paper until I get in that more optimistic head space. You can always tell when a collection is designed when you're down or fearful. Those are the worst collections. I just don't want to be jaded or sad, or anything like that when I'm doing it.
SM: Women who love fashion, they're always going to love it. I don't think that will change. But what they're thinking about buying, is very different. I mean, I see it already in just our online sales ... things that sold before that are just not moving, and things that were slower sale are actually selling really well.
Anything that's just too fancy ... no one's buying that. But we're selling a lot of separates, so lots of tops, lots of jewelry ... anything that you can see if you're on a computer all day. And we're also selling a lot of home products, sweaters, especially [during] the beginning of the pandemic. Normally our customers would be traveling, or getting ready to travel, but no one's really doing that right now.
The store is such an embodiment of what you represent, what has that navigation to 100 percent online been like?
SM: I started in this industry when there was no E-commerce so the stores are so personal to me. The face to face interaction, I just don't know how you can really replace that in a digital way. We relaunched our website right before we went into shelter [in place], thank goodness, because we spent a lot of time just thinking about how do we create this welcoming space online that feels somewhat like our store. Whether that's sharing stories about our staff, or our designers, about things that are important to us, community or any work that we're doing in Oakland, we wanted to share that.
But it's been a bit of a tough transition, you know? It's me going into the store every day, packing up boxes ... but I miss that interaction with our customers. Even though I'm doing FaceTime appointments, or constantly talking to them on text, DM, or Instagram. It's nothing like that human touch, that connection.
Do either of you feel like this has ushered in any changes that you consider a blessing in disguise?
AS: Something needed to just happen very drastic to make this industry stop the path that it was on. I wish that it wasn't this, but the fact is it's come and it has stopped the industry in its footsteps. Immediately there has been just a massive curtailment of how much product is being produced out there. And I think people are rethinking the pace which we were all working. I know for me, when I walk in the office now, and I look around at all of the ... just even the fabric swatches that we order to put together a collection, I'm like, "It's too much. It's just too much."
We're drastically shrinking the amount of development that we're doing, we are shrinking dramatically the number of stores that we are working with. 80 percent by choice, and 20 percent because they're just not able to survive. I think the specialty stores have proven how critical they are and how respectful they have always been to paying on normal timelines, and not marking down. Anything that we do right now that doesn't support the specialty stores is really tone deaf.
How does your direct access to customers inform what you do? How much of it is giving people what they're asking for and how much of it is showing them what they don't know that they need yet?
SM: I did corporate buying in the beginning. I was an assistant buyer at Neiman Marcus, and then was promoted to associate. And that world was so different because it was all about numbers ... it wasn't even about looking at a collection and thinking about the customer.
Now, I can go into the Tibi showroom and know what customers are going to buy this collection. I'm in a showroom and I will take a picture from an upcoming season and they're like "yes, save that for me," or "buy that for me." It is really down to that level.
AS: My goal is to really be very clear about what we're offering, and then find the right women out there who want what I'm offering. I'd rather do that than find a group of women and try and create enough product to match all of their personalities. As long as I'm capable of explaining why I love what I made and how I would wear it. Being able to wear things to multiple places is important to me.
If people are spending money on something [right now] they want to hold on to for a long time. They want to feel like someone is there giving them the advice and helping.
AS: For a long time we have confused the customer; we trained them to wait. Especially the department stores. The larger stores have dictated this industry for so long, they've said, "This is when we're supposed to mark down, this is when we're supposed to bring things in". And as a specialty store, we didn't have a lot of say so for such a long time, and we had to go along with what they were doing, which was bullshit. You know? We're all in this industry to make sure that our customers are happy with their purchases, that we're not shoving things down their throat every single second. And then, saying that one thing is worth $100 today, but sorry, in six weeks it's worth $30. Sorry, we tricked you.
SM: Just know that it's not overpriced, it's just different business models dictate different pricing structure. So, if you have a department store and they're saying something is full price today, but we're going to give you, at some point in the season, 30 percent off because they have agreements with designers that their margins are going to be protected, so it doesn't matter if they mark it down, they're not impacted.
And who is impacted? The designers are impacted and then the specialty stores are impacted. We have to compete with those type of markdowns, and we're not asking for markdown allowances, or protected margins, or any of those things. We want to sell product at full price for as long as possible, because we believed in it. When we said that something was $395, we believe that that is the value of the product.
AS: Any brand that is in the young designer advanced category, is the purest priced brand. It's priced to support the designer and their team, and it's priced to support the boutique who's carrying it, and support their overhead expenses.
It's also about finding ways to educate people earlier on in the process so that they'll seek out those brands more actively.
SM: Over this time I've been thinking about transparency. How do we let our customer know exactly what they're paying for, you know? It's really breaking down why something costs ... Who's being paid from all of this?
AS: I find that being very direct and honest usually is the best route. Right now we are in a time where there is going to be a lot of value and beauty in being small, and being able to explain yourself directly. And each time when you have a monumental outside force happen, whether it was 9/11, whether it was '08 [financial crisis], it has created a whole new dynamic afterwards. I think [smaller stores] are going to be the big winners out of this because they are going to be special again.
We have found out that we can not afford to do business with these really big players. They are not there for us when the times got rough. They will squash you, and you can't afford to let one or two big players squash you. I will never put ourselves in this position again, and I'm sure a lot of other designers like me are in the same boat. Specialty stores are about to get really special. They're going to have designers that won't touch those bigger players.
Do you have dreams for your business coming out of all of this?
SM: We get a lot of messages, especially through Instagram, from people, younger professionals saying, "I want to buy something from you. I haven't bought yet, but I don't want to spend so much money. I'm just starting. Can you help me build my wardrobe?" We want to be that for those customers. You know?
There are so many women who are transitioning in their life. Women who are retiring, or women who are coming into the workplace for the first time, or women who are going from an industry where they had to dress up all the time, and now they're in a space where they still want to look good, but ... You know? So, we're thinking a lot about that and what that looks like for our business.
AS: My level of engagement on Instagram has just gone through the roof ... people are so unbelievable hungry for information, it's crazy. And they're hungry for point of view. They're really glad when you don't try and pander to everyone. And that's the thing is Sherri can afford to have a point of view, I can afford to have a point of view because we're not selling to everyone. She might be a range of race, religion, size, and size of her wallet. But her mindset has to be the same.
This interview has been edited and condensed.