How Dior Makeup Artist Sabrina Bedrani Packs For A Parisian Summer — EXCLUSIVE
Presley Ann/Getty Images for Sephora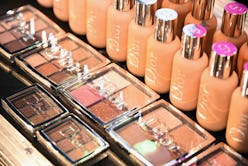 When Paris is on Sabrina Bedrani's calendar, the Dior Makeup artist and Brand Ambassador and native of France doesn't just jump at the chance to indulge in a fresh croissant (though she did on her latest visit) or snap a breathtaking shot of the Eiffel Tower (she did that, too). Bedrani, who worked with Gal Gadot for the Dior Haute Couture Fall/Winter 2019 show on July 1, always manages to squeeze a visit to a local Parisian pharmacy while in the City of Light.
"There are few things I always stock up on," Bedrani tells TZR. "I always get a tube of Homeoplasmine (an ointment that works great on dry lips), Effadiane (a rich moisturizing cream that works wonders on very dry skin), and Bioderma Sensibio Micellar Water." That's not to say that her entire carry-on is filled with budget buys. She, of course, includes plenty of prestige Dior Makeup picks to prep her wide range of clients, and this time around, she fine-tuned her selections because of the record-breaking heat in Europe.
Because of the heat and humidity, she makes sure to have very light moisturizers like Dior Capture Totale Creme Light Texture or Hydra Life Fresh Hydration, she notes. And for the base, a tinted moisturizer or light foundation (like Dior Backstage Face & Body Foundation) works well, too.
As for her own makeup bag, she has a similarly minimalistic approach. "I already don't wear a lot of makeup to begin with," she says. "But when it's that hot and humid, I will just wear a light moisturizer, concealer, and mascara. I might add a cream blush, but it's usually so hot, my cheeks gets pretty flushed naturally."
But who wants to spend time on a complicated look when there's so much to see and do, anyway? "If I have time off while in Paris, I always look for new art exhibition," she reveals. "This trip, I went to the Palais de Tokyo and loved the current exhibition. But I also love to just walk around in Paris, especially in the summer."
Ahead, see Paris in summertime through Bedrani's eyes.
"The best way to start the day is breakfast at Hotel George V."
"This trip was a little different because I ended up staying two extra days after working, so I really had time to enjoy being there. I even had time for a fabulous massage at the Dior Institut at the Hotel Plaza Athenee."
"When I'm working with Dior, they always have amazing dinner planned on the night before the show. The day of the show after getting my clients ready, I usually go to the show [with the brand] and watch all the magic happen."
"We usually will have dinner all together with the Dior team that night as well, and in between I try to squeeze in a meal with friends and family. My new favorite restaurant is Pink Mama."
"I love walking around and being a tourist in my own town!"
"And of course, no Paris Trip would be complete without a look at the Eiffel."