Everything You Need To Know About "Clean" Fragrance Products
Kristin Gallegos / Thin Wild Mercury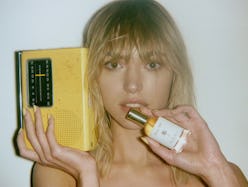 You have no idea what's in your perfume. Sure, there's a top note of rose and mid-note of jasmine and a musky, amber base (or something to that effect). But the chemicals that create those scents? You don't know, the brand that makes your perfume might not even know, and according to the Food & Drug Administration, you don't have a legal right to know. If that sounds a little sketchy, it's because it is — and clean fragrance brands are on a mission to do something about it.
"The U.S. federal law that governs the nearly $100 billion dollar industry is 82 years old, and only one and a half pages long," Mia Davis, the Director of Environmental and Social Responsibility at clean retailer Credo, tells The Zoe Report. "It is very weak, and has many loopholes, the biggest of which is around 'fragrance.'" Davis explains that "fragrance" qualifies as a "trade secret," and as such, companies are not required to disclose what chemicals are inside their products — which could be any number of the 4,000 substances in the international fragrance library. "In many cases, [ingredients] aren't even disclosed to the brands buying the blends from the fragrance house."
The trade secret law dates back to a time when the industry's top priority was safeguarding signature scents. "There was less of an understanding or concern about the toxicity of fragrance ingredients," Davis explains. Today, there is a concern that at least some of those 4,000 substances may be hazardous to human health — and rightfully so. The term "fragrance" often encompasses "phthalates (which are hormone disrupting plasticizing chemicals), synthetic musks, sensitizers, allergens, and chemicals that have never been assessed for safety," the Credo exec tells TZR. In fact, only 34 percent of the potential fragrance chemicals have gone through safety testing, per the Environmental Working Group.
In 2010, the EWG and The Campaign For Safe Cosmetics joined forces to test 17 popular perfumes for undisclosed ingredients. Their research turned up an average of 14 hidden chemicals per product; 10 of which are associated with allergies and asthma, and 12 of which are possible hormone disruptors — including diethyl phthalate (a substance linked to sperm damage) and musk ketone (which has been found to accumulate in fat tissue and show up in breast milk). The campaign used this data to call for full ingredient transparency in the fragrance industry. The industry's response? It would be "virtually impossible," per Dr. John Bailey, PhD, the chief scientist for the Personal Care Products Council… because fragrances typically contain too many ingredients to fit on a label. As Christian Toscano, the herbalist behind natural perfume brand Roots Rose Radish, tells The Zoe Report: "Scents are more protected than we are."
Today, Credo is taking matters into its own hands with the Credo Fragrance Transparency Policy. "The policy has two elements," Davis says. "The first incentivizes full disclosure of fragrance ingredients, and we have 71 brands who are fully disclosing." Credo will prioritize these brands in stores, on its site, on social media, and at in-person events. The remainder of Credo's 120+ brands will now have to at least categorize their scent sources. "The categories include Unscented, Essential Oils, Certified Organic, Natural, Naturally-Derived, and Synthetic," Davis says. "This way, at least, consumers can know what types of fragrances are in the product they're looking at — and if consumers are sensitive to certain chemicals in fragrance, which happens often, now they'll have a better opportunity to home in on what might be triggering a reaction for them."
The policy is revolutionary for a multi-brand retailer, but a new crop of clean, direct-to-consumer companies are championing transparency as well. "All our products come directly from whole plants that are the highest quality, steam-distilled, and then mixed in a base of jojoba oil, which bonds closest to the skin's natural oils, delivering an even scent that works with your chemistry," Toscano says of her Roots Rose Radish creations. (Bonus: The solid perfumes come in the chicest natural shell compacts.) Considering the scarcity of all-natural perfumes, I asked the founder if it was harder to formulate with plant-based ingredients. "Absolutely not," she says. "However, it is more expensive to create formulas with quality ingredients and no artificial fillers."
Cathleen Cardinali, the fragrance designer behind the unisex line Thin Wild Mercury, agrees that safer, higher-quality ingredients often cost more than their questionable counterparts. But, "as an independent artist with no corporate board pressuring me to cut costs, I am able to choose what I want to use, no matter the cost," she tells The Zoe Report. "I do not use anything known to cause illness or cancers in humans, and I follow International Fragrance Association standards in final formulation." The IFRA has significantly stricter safety regulations than the U.S. (which, honestly, isn't that hard). "For example, it will only allow levels of 0.03 percent of organic rose otto essential oil in a final formula," Cardinali says. "I'm looking out for everything, even minor skin reactions."
Thin Wild Mercury isn't just committed to crafting clean fragrance — its scents extend into eco-friendly territory, too. "When a painter cleans their brushes, how is the paint residue affecting the water supply?" Cardinali muses. "Perfumers have to ask the same questions, as we make waste as well." To reduce the impact these products have on the planet, Cardinali and her co-founder Anthony Polcino take extra precaution when sourcing ingredients — even natural ingredients. "I avoid anything on the endangered list," she shares. "People are getting excited about sandalwood becoming more readily available, but it's been endangered due to illegal trade and over-harvesting, so I create my own sandalwood accord."
The duo carries its philosophy into packing and shipping, as well. "Everything is made in the U.S. — we partnered with a small design firm in Rhode Island to design our box and and local Los Angeles letterpress to design labels," Cardinali says. "We do not use cellophane wrap like most fragrance brands do, and we don't cut costs in exchange for cheap labor in any aspect of the brand." In this way, Thin Wild Mercury produces perfumes that are "beautiful, safe, and socially responsible." (Oh, and they smell incredible — I can personally attest to that.)
All in all, the goal of the clean fragrance movement isn't solely to convince you, the consumer, to go clean — it's to convince the government to step in and ensure citizens' safety. "We are pushing for transparency because brands and customers have a right to know what they're using on their skin and breathing in every day," Davis says. "If fragrance companies know that chemicals are linked to health or environmental harm and they need to disclose them, they're going to think twice about using them."
Ahead, 14 scents from seven clean fragrance brands changing the game — and maybe even the law.
Shop Clean Fragrance