How CIE Denim Is Turning Vintage Jeans Upside Down — Literally
Courtesy CIE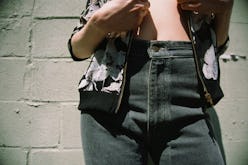 "The denim industry is extremely saturated," designer Kelcie Schofield, who launched CIE denim in 2017, tells the Zoe Report. "If I was going to get into it, it had to be new and fresh." Last year, the New York-based designer found a way to do just that: Schofield turned denim on its head, quite literally — and since, the CIE's upside down jeans caught the attention of not just the fashion industry, but the entire internet.
Don't mistake Schofield's unique designs for some sort of gimmick though: Sustainability through repurposed vintage is the key ethos of CIE — which, by the way, is pronounced "see," and named after the second half of her first name. Schofield is always down to fangirl over the history of denim, and she believes that the material can be both trendy and sustainable. "I want to build on the long history of denim. There's so much innovation to be had still and I want to be a part of it," she notes. "But most denim manufacturing and washing techniques are really bad for the environment." While some brands — like Patagonia, Everlane, and Levi's, who have implemented eco-friendly processes to reduce the impact of new jeans — a traditional pair of jeans require 1500 liters of water, and can require harsh chemicals to get washes just right.
So instead of designing and creating a line from scratch, Schofield set out to breathe new life into old jeans — bypassing the excessive water usage on the outset. "Denim is such a great medium for reinventing because it gets better and better with age," she explains.
After sourcing vintage jeans in New York City — she recommends "touching every pair in the shop" to find the one that'll hold its shape — Schofield prototypes her own ideas and then works with a pattern maker in the city's Garment District to totally reconstruct the denim into something new. "Using pre-existing materials definitely comes with its own challenges but it's cool that I get to use a lot of the original seams and hardware," she explains.
The result? A unique pair of denim that's equal parts understated and distinctive. This attention to detail commands a higher price than other denim (most pairs run between $385 and $485 each), but since CIE's jeans are made one at a time — rather than be cut all at once, like many brands on the market — labor costs are higher, too. "When you buy CIE, you're not only getting a one-of-a-kind pair of jeans, you're contributing to ethical fashion in the form of US production, fair wages, and ethical practices," says Schofield, who noted that she's excited that responsible fashion become more mainstream. Still, for her recycling has a deeper meaning: "I love taking the history of past jeans, turning it into a new pair and then wondering what's going to happen to those jeans next."
So what is next, exactly? While wide-leg and bellbottom styles have all but replaced skinny jeans in the past few years, Schofield says it won't just stop there: Customers are ready to go outside the box with silhouettes now more than ever," she explains, noting that we'll not only see even wider legs, but also higher rises and unexpected details, like double-sewn pockets. "Tie-dye has also made some interesting appearances that we could see more of." Tie-dyed jeans? Don't dismiss them just yet: Scroll down to see Schofield's take, and shop the rest of her newest drop below.