How Amina Muaddi Created Instagram's It-Heels
Kirstin Sinclair/Getty Images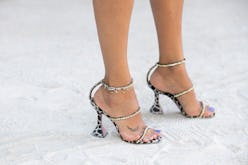 Amina Muaddi's shoes are meant to make you and your feet feel amazing. The Paris-based designer's colorful, shimmery, and sequined footwear has quickly become a favorite of street style stars and celebrities alike, Rihanna and Gigi Hadid included. And yes, if Carrie Bradshaw existed in 2019, she'd definitely hike her way around Manhattan in a pair too. Amina Muaddi's designs, particularly her distinctive heels and boots have become instantly recognizable cult classics with a devoted Instagram following.
In many ways Muaddi's footwear is a push back against the casual athleisure that dominated the footwear industry in the mid-2010s and onwards. Her shoes are unapologetically fun — classic feminine pumps, strappy sandals, and platform boots in colors that span the rainbow and include statement embellishments like rainbow rhinestones. "I think about how they look on a woman," she explains to TZR about her design process. "I want her to feel beautiful, chic, and refined in them."
Though she only launched her brand in 2018, Muaddi has garnered industry attention for her signature flared heels, so much so that this year she's earned the title of 2019 Designer Of The Year at Footwear News' Achievement Awards, a title previously held by Tabitha Simmons and Gianvito Rossi. "After winning Launch of the Year just last year this came so unexpected," she explains, adding that it's a testament to her team's hard work in building the brand in such a short time. She adds, "I launched my brand by simply by announcing it and posting my campaign on Instagram with a See Now Buy Now product. My first collection sold out the day it dropped."
But Muaddi's impressive credentials pre-launch can't be ignored. After attending Milan's European Institute of Design, she cut her teeth first as a stylist working at GQ and L'uomo Vogue, then went on to co-found another footwear label, Oscar Tiye, in addition to helping Alexandre Vauthier launch footwear. Muaddi is also a street style star in her own right, often photographed during fashion week alongside friends like The Attico founders Giorgia Tordini and Gilda Ambrosio, who both have shoes named after them. "My styling background helps me when I shoot my campaigns or when i style myself in my shoes, showing people how I wear them," she adds.
Her eponymous line spans a wide range of silhouettes, but perhaps the most recognizable is her signature flared heel, one that is slender at the top and widens at the bottom — a move that adds comfort, and is distinctive to her line. "I had actually designed my collection and I was looking at it and feeling that something was missing," she explains. "I love the femininity of a stiletto heel but I wanted it to have an edge. So I thought of taking half of a stiletto heel and half of a flared heel and creating a new exaggerated proportion that gave that extra freshness to those shoe styles."
Beyond the signature heel, Muaddi has created shoes ranging from flats to platforms in highlighter hues, fabricated in velvet, satin, and even glitter and featuring luxe materials like feathers and crystals. Prices for the footwear range from around 600 to over 1600 for some of the taller boots. In many ways, they're the ideal range of party shoes. While you may tend to get dressed with a clothes-first approach, generally leaving footwear as an afterthought, Muaddi's footwear demands the spotlight.
When asked about the enduring popularity of her signature style she notes, "the collection is a body of work and includes many heel heights and flats too, but always with a feminine sensibility. I guess the heels attract more attention and are more noticeable as an object of desire." A fact proven by the over 400,000 followers across both her personal Instagram and the brand's official one.
Muaddi's shoes are available to shop at a number of luxury department stores and e-tailers including Neiman Marcus, Saks Fifth Avenue, and MyTheresa, but the designer has chosen to keep production limited, expanding the business in a way that feels authentic. "I don't over-distribute my product, I am in no rush and I don't think a luxury product should be everywhere but just the right places," she explains, adding that when designing, she's always thinking about what she personally would wear. "I don't think about what category is on trend, if it's not true to my identity I won't make that product."
Now that you've had the chance to learn about Muaddi's journey to must-know footwear label, shop the eponymous line of footwear below: