This Luxe King-Size Bed Is On Sale & Under $350 For Just A Few Days
Andy Stagg/View/Shutterstock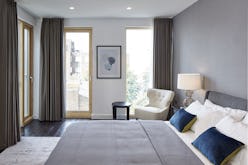 Tufted headboards. Imported marble. French country decor. If these phrases make your heart sing — and your wallet cry — you may dream of decorating your home in a luxe style. The only thing holding you back? That aforementioned wallet. However, against all odds, it is possible to have high-end taste on a tight budget. You just need to know where the best sales on your sophisticated dream pieces are; and for a few days, Houzz's Presidents' Day sale may be just the one for you.
Be aware: It's a bit daunting to explore at first. So much luxe furniture and home decor is on sale, and Houzz has the pieces sectioned off by style, budget, and other categories that seem like it should make shopping easier — but where should you even begin? Exploring the interior decor website's favorites by rooms in the house is a good starting point if you're looking for larger furniture pieces.
It's where you'll find some incredible deals, too, like this discounted king-size bed. Regularly $649, the upholstered bed is on sale for only $329. It isn't drastically marked down because of alarmingly low reviews, or anything of that nature; the pretty, pale fabric-covered bed has a 4.6-star rating.
Houzz covers all its bases: You'll see mid-century modern, industrial, and farmhouse chic. But sophisticated and traditional take center stage; just take a look at this tufted velvet sofa, on sale for $1,346.01 from $1,849. Or this other regal king-size bed on sale, marked down to $729 from $949. There are pieces to elevate every room in your home — even your bathroom. Because what could be more luxurious than taking a long bath in this free-standing clawfoot tub? (And what's better than getting it for almost $350 less than the original retail price?)
Ahead, nine must-have pieces from Houzz's Presidents' Day sale for anyone with a luxe decor style — and yes, this list includes tufted fabrics, imported marble, and pieces that nail the elegant, French cottage vibe.