This New Luxury Lip Gloss Doubles As A Lip Plumper — Here's How
Courtesy of Hourglass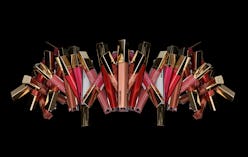 "Luxury lip gloss" may sound like an oxymoron if you grew up swiping on sticky, glittery products. But lip gloss has matured since the last time it was in the spotlight — and while the gloss itself is still just as poppin', brands are revolutionizing formulas for the modern gloss lover. And one new formula is here to elevate the product even higher; Hourglass' Unreal High Shine Volumizing Lip Gloss just dropped May 3 at Sephora, and it's the non-sticky, moisturizing, luxury lip gloss you only could've dreamed of during the early aughts.
And the new $30 gloss is versatile: It's long lasting and lip plumping, offering 18 shades to choose from and multiple finishes (from traditional gloss to a summery shimmer). "There has been a growing trend of seeing luminosity and glow in everyday looks and lip gloss is the easiest way to achieve a luscious full pout with one swipe," Marc Reagan, Hourglass Director of Artistry and Education, tells The Zoe Report over email. "I think that this growing trend is exactly what Unreal delivers — amazing shine and long-term skincare benefits in a single formula. The shine and plumping effect you're looking for, without the sting of traditional lip plumpers."
But how, exactly, does a lip gloss formula double up as skin care? Look no further than Volulip, Hourglass' secret lip-plumping weapon. "Volulip is an ingredient that was developed to help improve lip texture, shape, and softness," Reagan explains. "Our new Unreal High Shine Volumizing Lip Gloss features a combination of Volulip and hyaluronic acid to deliver intense moisture, which amplifies lips' natural shape and long-lasting volume."
However, Volulip isn't the only reason to pay special attention to Hourglass' ingredient lists this season — a major change is coming to the brand. "Starting this year, every new product launch is vegan, and we plan to become fully vegan by 2020," Reagan says. And while that may delight some shoppers, you should still give the Unreal lip gloss a try even if it'd be your first vegan makeup product. "The beautiful thing about Unreal lip gloss is that it gives you all the characteristics of a lip gloss that people love, without all of the elements that they don't," Reagan explains. "It's a non-sticky, hydrating formula that gives you brilliant luster and shine." Score.
So, you're set on the formula. But how do you pick one shade out of 18 colors? Reagan also has a few hints of which lip colors may be trending next. "Nude lip colors like our Truth and Dusk colors to pink, soft coral colors like Prose and Horizon. Of course, it always depends on one's personal style, but color that instantly brightens the complexion are ideal for that effortless summer look," Reagan says.
Grab your own Unreal High Shine Volumizing Lip Gloss from Sephora or on the brand's site below.