Your Favorite Clean Beauty Brand At Target Is Adding A $28 Retinol Serum To Its Lineup
Honest Beauty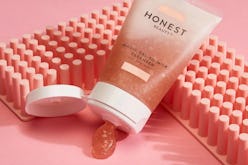 At this point in the year, you've probably already said goodbye to that dewy glow you achieved from the endless summer days in exchange for its less desirable counterpart: rough and dehydrated skin. While you might have warmer weather to look forward to in the coming months, there are still a good handful of weeks (and potentially more, depending on where you live) before spending all your time outside becomes a welcomed activity. However, Honest Beauty just launched new skincare, and these products might be the key to getting that sun-kissed glow well before summer arrives.
The clean beauty brand, founded by actor Jessica Alba, has launched five new products, ranging from a cleanser to a retinol serum. The best part? They're all under $30. Available on the brand's site as well as at Target, Honest Beauty's latest collection is designed to give your skin the revitalization it needs — even in the worst of environmental conditions.
Start out your skincare regime with the Magic Gel-to-Milk Cleanser, $14.99, which is made with pink kaolin clay, an ingredient that will transform from a gel to a creamy milk cleanser when used with water. Then, you can either use the Vitamin C Radiance Serum for a daily boost of brightening, or the Honestly Pure Retinol Serum, which both cost $27.99. The retinol serum is made with a blend of hyaluronic acid, a common ingredient in many hydrating products, and retinol, an ingredient typically found in anti-aging products that many dermatologists use for skin rejuvenation, according to a previous article on TZR.
Honest Beauty's new Hydrogel Cream, which is made with two types of hyaluronic acid and is available for $19.99, will be the key to keeping your skin plump and hydrated throughout the remainder of winter. Finally, finish off your daily routine with a bit of shimmer using the Magic Beauty Balm Stick, $14.99, which is based on the brand's popular Magic Beauty Balm. The easy-to-use stick will give you a light touch of highlight anywhere you want.
Now, scroll down to shop the entire range of products from Honest Beauty.