Here's How To Pronounce Beaufille, The Brand You're About To See Everywhere
Courtesy of Beaufille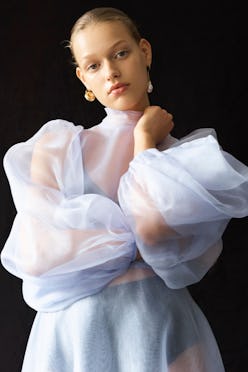 I'm seven steps into Beaufille's showroom during an appointment on the fourth day of NYFW before I realize I'm being rude. Instead of greeting the two designers hosting me, I jolt right past them and instead make a hand-first beeline toward a baby-blue chiffon maxi dress hanging on a mannequin by the window. It's extravagantly oversized, completely sheer, and totally calling my name. I just had to touch it — and yep, it's just as dreamy as I imagined. After I take a look around — and apologize to the designers for my tunnel vision — I realize the dress may be the show pony, but it's the rest of Beaufille's elegant, clean, wearable Spring/Summer 2019 collection that's truly gripping: an expertly tailored wide-leg pant with a drawstring to boot; a long-sleeve mock-neck made entirely of cobweb lace, an impossibly lightweight embossed-linen trench coat — a dead ringer for crocodile leather from afar.
"We started with three of the most classic menswear pieces that they might wear in the summer, which is like a tailored trouser, a double-breasted jacket, and then those Hawaiian T-shirts," says Chloé Gordon, one-half of the sister duo that makes up Beaufille, which is pronounced "Bo-fee." She walks me through the collection with her sister and design partner Parris, who focuses more on Beaufille's accessory offering.
The Toronto-based brand's name derives from the French word for "handsome girl," a play on the combination of masculine and feminine elements throughout each collection; This season, the dichotomy is most evident in the precise darting of a white button-down shirt, or the boxy cut of a pleated midi skirt.
"It's always important for us to mix those harder, cleaner elements with these more dream-like, flowy elements," Chloé tells me, eluding to a nearby purple-and-red striped dress with a 3/4 puff-sleeve — a silhouette that's showed in previous collections. And though the zebra-inspired print is equal parts elementary school art-teacher and carefree prairie girl, it just sort of works: "I'm always super attracted to prints that have more of the evidence of the hand," Chloé adds. "So you'll see that all of the striped fabrics have irregular stripe; there's no real consistency in the pattern."
It's this distinct point of view — plus small, oft-overlooked touches like Italian-made hardware and technical, wrinkle-resistant fabrics — that's been a bedrock of the Beaufille's success. The brand emerged on the scene in 2013, but garnered its rightful notoriety in recent seasons, eventually becoming more widely known for its ability to feel at once like a fashion risk and a second skin — especially if that second skin feels like perfectly tailored wardrobe of non-basic basics. It doesn't hurt that each piece is reasonably priced for the contemporary category (think: $585 for a crochet-knit midi dress; $225 for a pair of gold-plated brass faux-pearl earrings; $1,280 for a glossy cotton-blend vinyl trench with notch lapels).
After launching in 2013, the sibling duo spent the last few years sweeping up a few accolades: first, Canadian Arts & Fashion Awards Accessories Designer of the Year in 2015, before nabbing the much-coveted Womenswear Designer of the Year title in 2017. Now, Beaufille is stocked at luxury retailers like Farfetch, Moda Operandi, Need Supply, Totokaelo, and Net-A-Porter, the latter of which headlines the brand as "modern womenswear."
Modern, indeed: Even a simple T-shirt in the Spring/Summer 2019 line boasts a structured balloon sleeve — something that sounds just okay in theory, but looks great in practice. "A lot of our pieces start off with the idea of ease, and then we figure out how we can incorporate something to take it up a notch and make it feel like more important," Chloe says, directing my attention to the unconventionally wide sleeve opening on a cropped burgundy trench.
Even better: Unless you really hate body-grazing silhouettes and Italian craftsmanship, there's nothing truly divisive about the line, which — for the first time — features footwear as part of a collaboration with Korean cool-girl brand Reike Nen. The five-piece black-and-white collab is a clear fusion of Beaufille's androgynous aesthetic and Reike Nen's more playful silhouettes; each pair is made to mix and match with the ready-to-wear collection.
"We just wanted everything to be able to be worn with absolutely everything for any occasion," Parris tells me, pointing to the asymmetrical details of the sole pair of black flats. The other four pairs — all white heels — vary from a structural kitten heel with a lace-up ankle tie to a cylindrical patent-leather pointy-toe mule.
And if you're just looking for an entry point into Beaufille, jewelry's a great place to start: Parris, who's been incorporated gold danglers and crystal pendant necklaces into the offering since the brand's conception, debuted jewelry holders this season, too. "They started as a fun, last-minute project," Chloe tells me, pointing at a pair of brass earring holders could serve as stand-alone home decor, too. "Parris started making them as Christmas gifts, and then we started getting orders, so we figured we'd take them to market."
It's that attitude — and sheer creative genius — that's made Beaufille a brand to know in the fashion world. Soon enough, everyone else will, too.