Herbivore Botanicals' New Serum Is The Retinol Alternative You've Been Waiting For — Here's How It Works
Herbivore Botanicals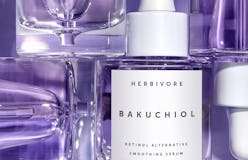 After hearing all the hype around retinol, you may've discovered — very quickly — that the superstar ingredient just isn't right for you. However, there are still routes you can take to achieve similar, transformative results without any of retinol's infamous redness; you just have to know where to look. Enter bakuchiol, a soon-to-be famous skincare heavyweight and the key ingredient in Herbivore Botanicals' Bakuchiol Retinol Alternative Smoothing Serum. Released on the beauty brand's website June 26, the ingredient's name is more complicated than its simple source: It's derived from a plant named babchi (or, more technically, psoralea corylifolia).
"Bakuchiol smoothing serum is a 100 percent natural and non-irritating retinol alternative. Containing no fillers or synthetics of any kind, bakuchiol is safe to use day or night (although we do recommend to apply SPF daily, no matter what!) and is even safe to use while pregnant," Desiree Pais, beauty editor at Herbivore Botanicals, explains to The Zoe Report over email. "Made from the Ayurvedic babchi plant, bakuchiol mimics the function of traditional retinol on the skin, encouraging skin-cell turnover and regeneration, which is what gives us a soft, glowing complexion, without the irritation."
Fortunately for you, Herbivore Botanicals' bakuchiol serum won't cost you more than a regular retinol treatment, either. One bottle retails for $54 — which should last you for a minute, since the brand notes you only need to use four to six drops of the serum each night. Getting your hands on it will be easy, too: You'll be able to order it on Sephora's website starting June 27, and snag it from in-store locations June 28.
Beyond the formula's star ingredient, Herbivore Botanicals' blend reinforces bakuchiol's retinol-like effect. As the key player jump-starts your skin on a cellular level, an extract derived from the tremella mushroom (popularly referred to as snow mushrooms) will deeply hydrate and refresh it — leading to bouncier, plumper skin. Polyhydroxy acids and blueberry stem cells also come into play, providing your skin with fortifying antioxidants, soft exfoliation, and a touch of moisture.
Ready to introduce bakuchiol to your skin? Ahead, Herbivore Botanicals' Bakuchiol Retinol Alternative Serum.