You Can Buy Harry Styles' Met Gala Earring At Gucci Right Now
David Fisher/Shutterstock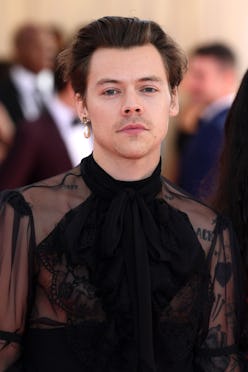 The Met Gala has been known for cultivating some of the most show-stopping red carpets in history. However, with tonight's theme in mind, "Camp: Notes on Fashion," the guests are taking it to the next level. Fashion icons have already begun making their way up the pink-adorned stairs, with this year's co-chairs making their first appearances for the night. While you might still be thinking about Lady Gaga's multiple wardrobe changes, Harry Styles' pearl earring at the Met Gala proves that a small accessory can put the finishing touch to his sheer Gucci ensemble. And if you're loving his look, you can shop it now.
Styles' pearl earring is right in line with one of the biggest jewelry trends of the season, and now that it's been approved by one of the Met Gala's co-chairs, you have no better reason to add it to your collection. The Bee Earrings with Drop Pearls, $410, are available on Gucci's website now.
The musician, who has a close relationship with Gucci Creative Director and 2019 Met Gala co-chair Alessandro Michele, appeared on the pink carpet wearing a high-waisted jumpsuit with a sheer top and exaggerated lace ruffles. Styles finished the look off a pair of heeled patent boots — keeping well with the camp theme.
To add to the elegant campiness of his ensemble, the singer donned blue and black painted nails. Styles also wore cool and edgy rings on nearly every finger, featuring two initial rings and one shaped like a lion's head.
The year's Met Gala theme is easily more vague than those in the past. However, according to Susan Sontag's numerous definitions mentioned in "Notes on 'Camp,'" it can be described as "the love of the exaggerated, the 'off,' of things-being-what-they-are-not." That said, it can leave much to the imagination of stars and their stylists when it comes to dressing for fashion's most anticipated night.
Though Styles' all-black lace ensemble may feel more subtle compared to other looks seen on the Met Gala's pink carpet, the star earned his place as one of this year's co-chairs for his impeccable style. And with the pearl drop earring he's wearing, Styles continues to redefine men's fashion in 2019.
If you want to add a bit of camp to your everyday ensembles, scroll down to shop Harry Style's pearl earring in a pair below.