The Best Under-$50 Bedding Essentials To Snag From H&M's Huge Spring Sale
H&M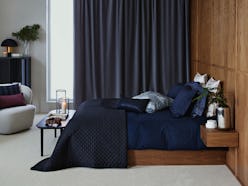 Though the season of new beginnings never truly leaves, spring cleaning is, in fact, a real thing. And as you prep yourself for the warmer and brighter days ahead, saying goodbye to winter for another year, why not give yourself a few updates along the way? At this point, you've probably given yourself a full Marie Kondo-like sweep, saying "out with the old," and now, it's time for the new. Thankfully, H&M is having its Spring Sale right now, which means you can get tons of new bedding to update your space — and the best part is, a good portion of it is under $50.
Whether you're hoping to completely change your bedroom aesthetic with a new set of bedding, or simply looking to swap out a few of your worn-in linens for crisp, new options, H&M's sale section has anything you might be looking for. From practical necessities such as simple bedspreads, patterned duvet covers, and textured pillow cases to colorful accent pieces that'll bring each bedroom to life, there's something for everyone.
For those who need the classics (i.e. everyone), this sale has plenty of affordable options to choose from. Add this classic white Cotton Percale Flat Sheet, on sale for $35.99, to your rotation of linens. You can style it with the Washed Cotton Duvet Cover Set, now $14.99, in light gray to create a multi-dimensional appearance. You also can't go wrong with styling your sheets with the Cotton Percale Duvet Cover, $39.99 which has a beautiful embroidery border that creates the appearance of luxury. Want to add some subtle texture? Snag the Jacquard-weave Bedspread, which is currently available for $34.99.
Just like when you're putting together an outfit, when you're creating a bedspread worthy of an Instagram, it all comes down to accessories. Once you've already armed yourself with the essentials, consider giving yourself an additional blanket like the Soft Throw, which comes in a beautiful (and versatile) pale moss green and is on sale for $18.99. You can also use decorative pillow cases like the Jacquard-weave Pillowcase to make your bed look all the more inviting. For the woman who wants to add something with an extra impact, go bold with a teal Jacquard-weave Cushion Cover, or opt for the Slub-weave Cushion Cover if you're feeling particularly seasonal.
Now, scroll down to find more affordable bedding finds from H&M's Spring Sale below.