This Influencer-Approved Brand's Long-Awaited Shoe Line Is Finally Here
Courtesy Wandler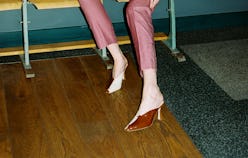 I first discovered Wandler about a year and a half ago. All things relative, that's not so long ago, but being that the brand only launched in 2017, I feel as though I've witnessed the full evolution from the beginning. I sported the brand's first miniature-sized belt bag in the midst of the fanny pack craze, and of late, I've been excited by the ways in which it's managed to touch on the trend cycle in ways that feel especially unique (think: adding neon piping or zebra and snakeskin fabrications to the repertoire). But in what may be the most exciting move to date, in addition to handbags, designer Elza Wandler is making shoes. At a recent breakfast in NYC, I had the chance to see the new heels and boots up close, and much like the signature bag shapes, the five footwear styles all hit on major trends while still slotting into the brand's cool aesthetic.
Though you can count sneakers out of this debut collection (Wandler explained that she was looking to bring back "sexier" shoe styles), each of her new heeled shoes — from a delicate kitten to custom sculptural styles — hit that sweet spot of day-to-night dressing. "I'm very excited about the colors and combinations," Wandler tells TZR. "Two-tone in Shiny Tan-Khaki, Apple Green, Shiny Red and color block in Candy-Tangerine with heel in green. Oh, and did I mention the Zebra and Leopard prints?" Ideally, I'd wear them to work with jeans and a tee, but could also see myself throwing them on with something a tad fancier. Wandler herself was wearing the shoes styled with a vegan leather top by another on-the-rise brand, Nanushka.
The Amsterdam-based designer explained that though she's always been interested in entering the footwear space, it's inherently a trickier market to tackle than bags. Since shoes are not one-size-fits-all like a tote or crossbody might be, the time and investment needed to do things the right way made shoes a strategic follow-up to her hyper-successful first endeavor. "I always wanted to create shoes and now was the right time. With how our bags have evolved after three seasons, it felt like a good moment to show another side of my creativity and ride that wave now," Wandler says. "Like with handbags, I felt there weren't a lot of brands out there that offered shoes with a fine balance of clean yet bold designs, which can sit next to the big luxury names aesthetic and quality-wise. The price is separate."
The collection is now available to shop on Bergdorf Goodman's website, with more online retailers debuting the collection April 30th, the official global launch date. Below, be one of the first to shop this ultra-cool collection that will help you up the anté when it comes to summer style.
Niva Mule
This peep-toe style is arguably the most editorial of the bunch. The multi-colored fabrication is just what you need to take your go-to look to the next level. They're playful, and just a bit sexy too.
Lina Boot
As the only boot in the collection, Wandler took a classic ankle silhouette and added in unique details like the sleek heel and diagonal pointed toe.
Isa Sandals
These sandals reimagine the currently popular square-toe, carrying over the angular cuts into the design of the upper. A cool two-tone with a metallic touch makes for a fun update to your seasonal wardrobe.
Bente Kitten
Consider the Bente your go-to footwear for the office. The shorter heel makes the shoes ideal for days when you're on the move but still want to look polished.
Lotte Mules
If you want to embrace the high-saturation trend for 2019, one easy way is by incorporating more color into your footwear. These two-tone heels stand out but won't feel too over the top when worn with a sleek pencil skirt or slip dress.