The Perfect $30 Gift For Your Friend Who Loves Hailey Baldwin's Laidback Style
Sebastian Reuter/Getty Images Entertainment/Getty Images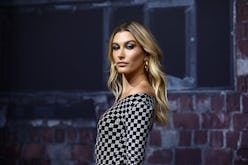 While she may have a famous husband, Hailey Baldwin has made quite a name for herself amongst the fashion set, and is often known for her effortless everyday style and ability to execute the '90s normcore trend in a way that feels surprisingly elevated. Proving, once again, that comfort and style can co-exist in the same breath, the model utilized basic wardrobe staples to create a super chic Thanksgiving day outfit. At the center of this look was Hailey Baldwin's fleece shirt jacket, and for fans of her laidback style, it's still available at Uniqlo — for now.
No stranger to a high and low look, Baldwin has gotten into the habit of infusing her distinct relaxed aesthetic with elevated accessories to complete her outfit, and this look for the holiday weekend was no exception. Though she swapped out her usual sneakers for pointed-toe pumps for a more festive feel, the look still resulted in an ensemble that's pretty easy to emulate for any occasion you might encounter this season.
Follow Baldwin's lead by layering the belted teddy coat over neutral skinny jeans and a crewneck sweatshirt of the same color story to complete a monochromatic outfit. Also, like the model, you can keep accessories to a minimum (she opted for a tonal BY FAR mini bag and medium-sized gold hoop earrings). And if you're hoping to pull off the look in the same relaxed cool-girl manner, try going up a few sizes to mirror the oversized feel and leave ample room for layering over chunky knits.
If you're intrigued to take on this outfit yourself or have a friend that mirrors Baldwin's flair for easygoing style, you're in luck— the fleece coat is currently on sale from $49.90 down to $29.90. Oh, and it comes in a few different colors, so you don't have to feel too much guilt if you're tempted to stock up on multiples for the gifting season.
Continue on to shop Uniqlo's fleece coat as seen on Baldwin, along with a few other styles that are just as cozy and versatile.