Guerlain Just Introduced The Ultra-Luxurious Mask You Didn't Know You Needed
Nordstrom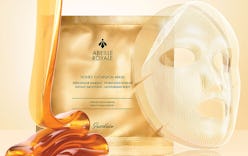 Some sheet masks you leave on for 15 minutes while you watch TV; then you peel them off, inspect your face, and wonder if they did anything at all. Guerlain's Abeille Royale Honey Cataplasm Mask is not one of such products. The mask retails at $108 per box of four, and it's the luxurious, clinically-proven beauty buy you had no idea you and your skin were missing. (Though you still can always watch TV as you wait for it to work its magic on your skin.)
Naturally, this is the French perfume, makeup, and skin care house Guerlain — so you probably knew any new products from it would be seriously luxe. The cataplasm mask is the latest addition to Guerlain's Abeille Royale collection, a suite of age-defying products crafted from royal jelly and honey. ("Abeille" being French for "bee", of course.) And seeing as this is Guerlain, not any old bee products are used; the brand tapped into the power of black bee honey and royal jelly sourced from a rare species found on the French island of Ouessant. According to parent company LVMH, Guerlain sustainably sources the honey and royal jelly, working with the Brittany Black Bee Conservatory to protect the bees.
The results from the rare ingredients are rather extraordinary. Guerlain ran a skin replication image analysis during the mask's developmental stage, comparing skin before and after one 10-minute wear of the mask. The house saw that wrinkles were reduced by 27 percent by the single application. To further prove its point, a clinical study showed that skin looked over 30 percent more rested when applying the masks for one month, twice a week.
However, the mask also gets its power from a drink you may grab on your way out from Whole Foods: The biocellulose mask itself is made from fermenting microorganisms found in kombucha. This material gives it an ability to fit snugly onto the contours of your face, making sure that its ingredients properly soak into your skin.
The weekend (aka face-mask-and-TV-marathon time) is right around the corner. So keep scrolling down to shop Guerlain's newest Abeille Royale mask, and discover the magic of these rare French bees.