This Edgy New Guerlain Lipstick Will Live In Your Purse All Winter
RemotePhotoPress/Shutterstock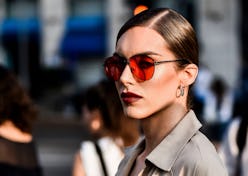 Summer isn't the only season for a sun-kissed glow. According to Guerlain's holiday 2019 Goldenland collection, it's a year-long affair — and one you should make a point to embrace as winter kicks into gear. With Guerlain's signature shade on its mind, the iconic perfume and beauty house's newest makeup drop officially arrived Oct. 25, and serves as reminder to fans that gold never goes out of style.
In fact, its timelessness plays into the collection's packaging. Three new pieces have already arrived at Sephora: the $80 Goldenland Eyeshadow Palette, $65 Goldenland Météorites Highlighting Powder Pearls, and $59 Goldenland Terracotta Bronzing Powder. Though you may be quick to realize you can reuse an empty Météorites Pearls jar — and you'll want to, since the new Goldenland packaging looks like it was plucked off the shelves of a French antique store — the eyeshadow palette and bronzer are both made to last, too.
Sephora notes in the product description that shoppers can reuse the empty powder compact as a jewelry box, and that the palette is housed in a reusable gold case. And chances are high that you'll work your way through all three products, by the way — the new Terracotta bronzer and Météorites Pearls shades are bound to be a hit with fans of both iconic products, and the eyeshadow palette is versatile enough to use day or night.
The new Goldenland Rouge G lipstick shades are just as customizable as their larger counterparts, although they are a bit edgier. The collection introduces the satin rose "No. 96", metallic beige "No. 95", and the deep matte burgundy "No. 94", a sleek, dark red you'll reach for throughout winter, guaranteed. All three new shades retail for $33, and can be slipped into Guerlain's $22 lipstick cases.
For the Goldenland collection, Guerlain introduced three new holiday cases, covered in studs — plus the Rouge G Rhinestone Wild Glam Lipstick Case, a Neiman Marcus and Bergdorf Goodman exclusive. Clocking in at $290, the case features a rhinestone-encrusted snake designed by jeweler Lorenz Bäumer.
So, while these may be holiday launches, their timelessness will establish them a place in your collection for years to come — long after you use up the makeup itself. Ahead, a select few favorites from Guerlain's new Goldenland collection.