You Can Finally Buy Denim On 11 Honoré's Site Thanks To This Cult-Favorite Jean Brand
Courtesy of 11 Honoré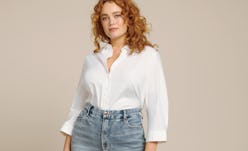 You may not have realized it while clicking through page after page of designer dresses, but it seems like something was missing from the popular size-inclusive retailer 11 Honoré's online store: denim. However, fortunately for shoppers, the brand has already gone ahead and found the perfect solution. Beginning in Aug., Good American is available at 11 Honoré — making it the very first denim selection to land at the luxury retailer. It's a smart move on 11 Honoré's behalf, as well (beyond the fact that everyone loves a good pair of jeans); founded by Khloé Kardashian and Emma Grede, Good American has amassed a cult following for itself, with more than one million followers on Instagram.
Three denim styles from Good American are currently available on 11 Honoré's website, offered in sizes 12 through 24: the form-fitting Good Legs jeans, the retro Good Flare in black, and the Good Curve Straight with Frayed Hem, a classic pale blue style with distressed detailing. Prices range from $149 (for the Good Flare) to $169 (for the Good Curve Straight style). You may notice that these three styles aren't similar at all — which, it seems, was completely on purpose. 11 Honoré took to its official Instagram account following the drop, calling it "the three most essential denim styles you'll ever need."
And, as you may expect, 11 Honoré isn't wrong at all; instead of simply offering one fit in multiple washes to kick things off, curating a selection of silhouettes — each with one easy-to-wear colorway apiece — allows 11 Honoré's shoppers to build a more versatile wardrobe and explore the cult-favorite brand for themselves. Better yet, each style of denim is on trend, with the Good Flare and Good Curve Straight especially relevant to fall 2019's style playbook.
Ready to meet the three pairs of jeans you'll want to live in the rest of the year? You can visit 11 Honoré's online store to shop the brand's selection, or find more Good American styles on GoodAmerican.com. Below, all three Good American jeans now available on 11Honore.com.