Glossier's New Limited-Edition Set Is The Perfect Balance Of Skin Care & Makeup
Glossier/Instagram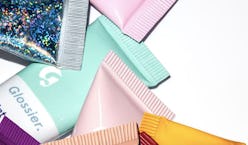 If you were about to make your monthly trip to Glossier's website to restock your collection, it's time to press pause — because the beauty brand just released something major. Unveiled online Sept. 4, Glossier's new Ready Set offers you a chance to save on three of the brand's fan-favorite products. And yes, before you ask: Boy Brow is included.
You shouldn't wait long to swoop on the deal, too. Unlike the other value bundles offered by the brand, Glossier's newest set is a limited-edition deal, and will only be available for 4 weeks online and in-store. You can't blame Glossier for putting a time limit on this discount, either; the new Ready Set is the perfect balance between Glossier's cult-favorite skin care and makeup, offering shoppers a chance to save $8 on Boy Brow, Milky Jelly Cleanser, and the Balm Dotcom. It's a morning routine, simplified.
And as you're probably well aware, buying all three products separately would regularly run you $46. However, The Ready Set retails for just $38 — and just like any Glossier set, you get to customize what's sent your way. While there's no choices to be made about the full-sized (aka 6-ounce) bottle of Milky Jelly Cleanser, you do get to pick which of Boy Brow's four shades and Balm Dotcom's eight flavors are included.
That's not all Glossier has been up to this week. On Sept. 6, the brand is launching a limited-edition Glossier x BARK dog toy collection — because your furry companion deserves their very own Boy Brow, too. You'll be able to grab the $10 Toy Brow and $8 Balm Dogcom toys on Barkbox.com or at Glossier's New York and LA locations. (Side note: No one could blame you if you snagged the plushes just to keep for yourself.)
To make sure you get your hands on both limited-edition releases, visit Glossier's website during the next 4 weeks and BarkBox.com starting Sept. 6. Below, all three new launches from Glossier (and BARK) to add to you and your pup's collections.