Glossier Just Turned This Under-The-Radar Beauty Hack Into The Ultimate Multitasking Product
Courtesy of Glossier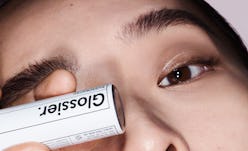 Leave it to Glossier to teach everyone a thing or two about their skin. When Glossier's new Bubblewrap cream dropped on April 29, it came with one very important distinction — Bubblewrap is not just an eye cream. (Which is a product Glossier's community has been asking for, well, forever.) The multipurpose Glossier launch is a lip-moisturizing cream, too. Because — contrary to what you may already know about your face — the area around your eyes and your lips both require special attention that's more similar than it is different.
Basically, both spots may need a little extra help to stay plump. That's where Bubblewrap's uniquely hydrating formula comes into play. Within one $26 bottle is a mix of ingredients that will deeply moisturize both delicate areas on your face. Bubblewrap's formula features hydrolyzed hyaluronic acid and sodium hyaluronate crosspolymer — which helps boost the cult-favorite ingredient's skin-saving ability.
The rest of Bubblewrap's ingredient list is equally impressive, too. A peptide complex and portulaca pilosa extract encourage your skin to stay soft and retain water, while avocado oil and squalane work as Glossier's "Moisturizing Taskforce" — i.e. they intensely hydrate parched skin. While you may not recognize all of the ingredients (like the skin-smoothing swertia chirata extract), Glossier's Bubblewrap is completely safe to use: The new product is hypoallergenic, cruelty-free, and vegan, and was tested by dermatologists and ophthalmologists.
You may already have been privy to the hack of putting eye cream on lips, too — Glamour featured the trick in an article back in 2015. However, that doesn't mean you should skip out on Bubblewrap in favor of any cream you already own. Glossier made two important updates to the traditional eye cream formula that may make it easier on your lips; first, the rich cream transforms into a lightweight and silky texture when you apply it, quickly absorbing into your skin. Secondly, there will be no skincare product pilling — aka when a formula refuses to sink into your skin and instead turns into miniature, impossible-to-use balls.
Which means you're safe to dab it onto your eye area and lips, wait for it to absorb, and then apply your makeup, making Bubblewrap an easy way to incorporate an eye cream into your morning routine. Glossier has done it again.
Below, Glossier's new Bubblewrap Eye + Lip Plumping Cream.