Glo Skin Beauty's New Foundation May Replace Your Contour, Highlight, & Concealer, Too
Courtesy of Glo Skin Beauty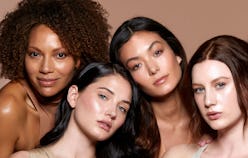 Mineral makeup has a good reputation. Praised as safe for sensitive skin, the lightweight beauty alternative is known for being just that — light. As in, breathable, airy, and (depending on the product) sheer. This can be great if you only want a touch of coverage, a minimal contour, or blink-and-you-miss-it highlight. But for sculpted, high-coverage looks? You may find yourself reaching for traditional formulas. Or, Glo Skin Beauty's new HD Mineral Foundation Stick. Unveiled Nov. 1 on Glo Skin Beauty's website, the game-changing foundation combines all of mineral makeup's pros with a full-coverage, multipurpose formula.
Because Glo Skin Beauty's new launch is much more than just a foundation. The complexion product has four unique uses, depending on which shade you select. Blend the closest match to your skin in as a foundational base, or dab it exclusively onto select areas as a concealer. Next, choose a shade one or two steps lighter or deeper than your foundation to glide it on as a highlight or contour — because yes, the skin-friendly formula can be used as either.
The $48 foundation stick is available in 12 shades and three undertones (cool, neutral, and warm). You don't have to opt for full coverage every time you use the stick, either; it can be built from light and sheer to high coverage, and features a natural-looking finish regardless of how you layer it on.
Thanks to the stick packaging, it's easy to use the HD Mineral Foundation Stick any which way, whether you're sitting at home by your vanity or stuck in the backseat of an Uber. Apply it directly onto your skin, with your fingers, or using a brush — it's that versatile.
Prepare for its added skincare bonuses, too. The HD Mineral Foundation Stick contains sodium hyaluronate, a form of hyaluronic acid, to help your face glow from the inside out. And in addition to the natural minerals found in the makeup, the brand threw its very own blend of antioxidant-heavy vitamins (A, C, and E) and green tea extract into the mix.
If you're already scheming up ways to use Glo Skin Beauty's newest launch, continue scrolling. The brand's new HD Mineral Foundation Stick, currently available on GloSkinBeauty.com, is ahead.