Glamsquad's New Makeup Collection Was Inspired By More Than 700,000 Beauty Appointments
Glamsquad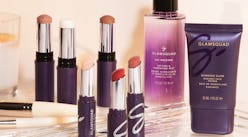 It's safe to say that Glamsquad understands which makeup products people use the most. The at-home beauty service company connects professionals with those looking for manicures, blowouts, and makeovers — without leaving the comfort of their own homes. With more than 700,000 services completed since launching in 2014, Glamsquad's new makeup collection relies on this learned intel. When you get down to it, is there any better way to learn about what your customer needs than by working with them in their own space?
And the four new products are refreshingly minimalist and sleek, considering they're the very first step in Glamsquad's makeup line. Whereas other brands may've gone after the "going out" look, Glamsquad focused on an everyday makeup feel, offering up a tinted lip balm, a hydrating setting spray, a silicone-free face primer, and a subtle (yet shimmery) highlighter.
Yes, they are products you could definitely use to build a glam look upon. There's the $18 Take a Tint balm in the darker berry shade, or the buildable sparkle of the $28 highlighter. All you have to do really is bring your own glitter eyeshadow. But you also don't have to — you could just apply a layer of the $28 primer, dab on the two colorful products, and finish with a spritz of the $22 setting spray. You'd be out the door in minutes.
It goes to show the sort of makeup that shoppers may be craving, and which pieces are necessary to fill in the gaps. According to the brand, Glamsquad's new collection is an assortment of products directly asked for by its clients and makeup artists — it's a reflection of all those hundreds of thousands of beauty services.
Moreover, the dermatologist-tested cosmetics are vegan and cruelty free, and were made without parabens, phthalates, sulfates, or mineral oil. Which appears to have been an altogether purposeful move by Glamsquad; the brand noted in a blog entry that the makeup products were formulated without "questionable chemicals."
At the moment the only place to score Glamsquad's makeup collection is by visiting the brand's website. Or, continue scrolling down — all four new products from the emerging makeup line are ahead.